Under new plans from Brisbane City Council, the historic Fish Lane has been transformed into a vibrant town square. Designed by architects Richards and Spence, the new development includes a new urban park, retail, hospitality and gallery spaces.
Project
Architecture
Landscape Architecture
Developer
Photography
Products
Bowral Bricks in Capitol Red
Products
Nubrik Clay Pavers in Custom Colour
A redevelopment of the laneway between Hope Street and Grey Street in Brisbane, Fish Lane town square has been elevated to another level of function and design. A combined space of retail, lifestyle and dining all in one location, Fish Lane Town Square showcases an array of stunning public spaces and entertainment.
The Fish Lane redevelopment has seen the space completely transformed, from a once over-looked underpass, to a lush urban park abundant with greenery. In addition to this, the space features public seating, lighting installations and projectors to facilitate live events and entertainment on site, embracing the existing creative spirit of Fish Lane.
The commercial hub has been operating on the docks of south Brisbane for over 150 years, and is now an inner-city urban renewal hub, bustling with bars, restaurants, cafes, art, galleries, music and events.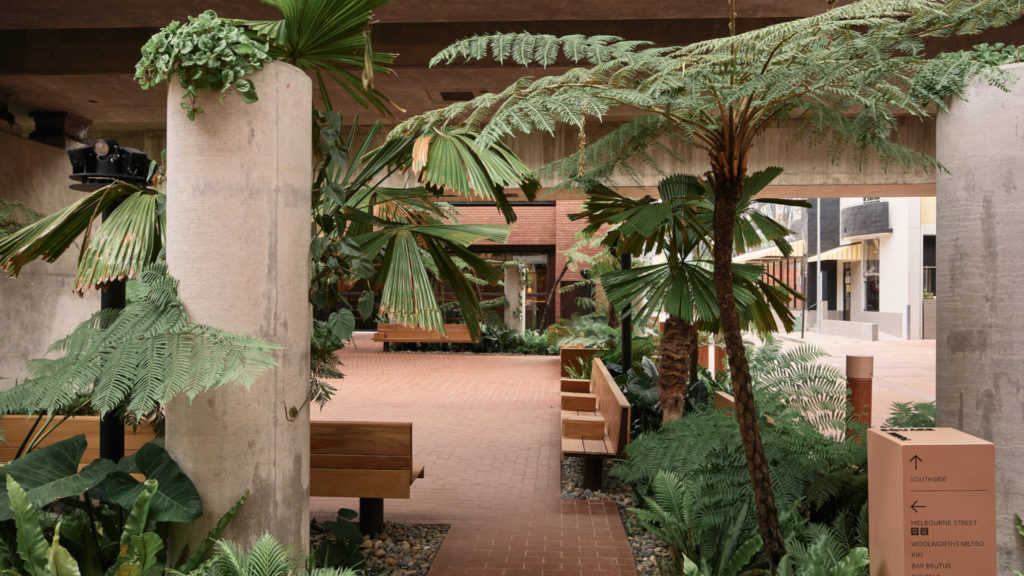 The new and improved Fish Lane sees public dining areas built beneath the lane's railway overpass, and showcases a demountable café and bar tenancy located in the centre of the space. The Quinn House at 63 Melbourne Street and an existing building at 49 Melbourne Street will be refurbished to create 12 new retail, dining and bar tenancies. Designed with the highest principles of urban design, Fish Lane features climbing planters along the exteriors of the building creating a vibrant oasis amidst the inner-city landscape.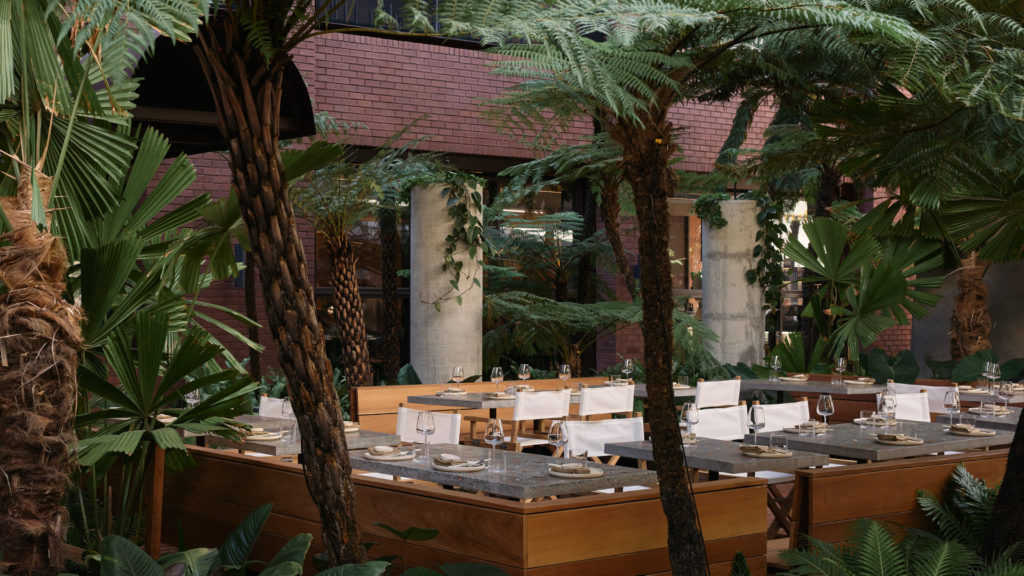 Working with the existing design and features of the unique space, Richards and Spence, alongside Aria Property Group, created a project that profits from the surrounding environment. Simon White of Aria Property Group says of the location, "I always saw the rail line as this sort of awning that we got for free". Utilising the existing structure, and seeing its potential as much more than simply an unused underpass, White explains that, "in Brisbane, when it's 32 degrees outside, downstairs in the town square it's 25 degrees", creating the perfect space for a breezy, inner-city sanctuary.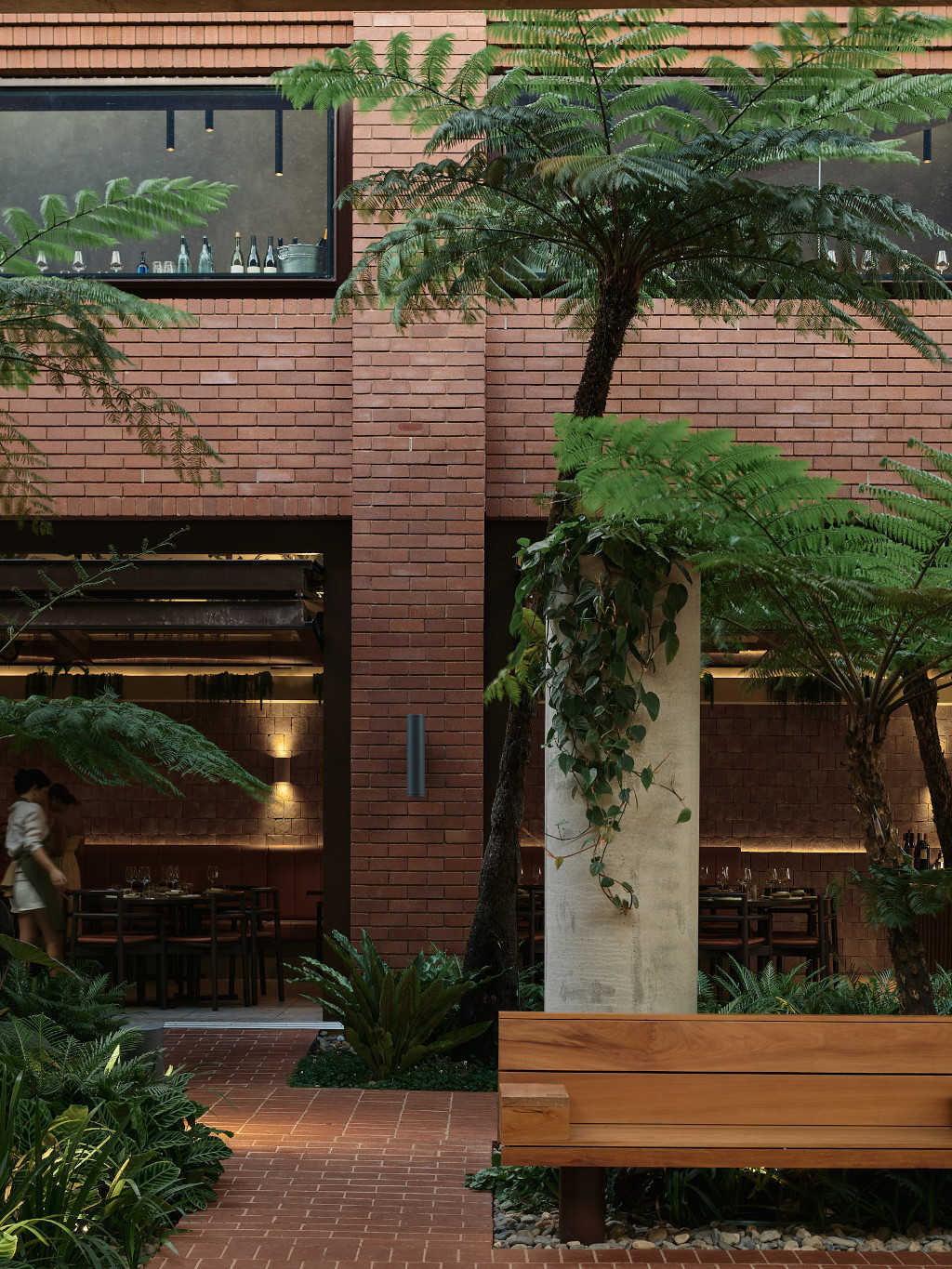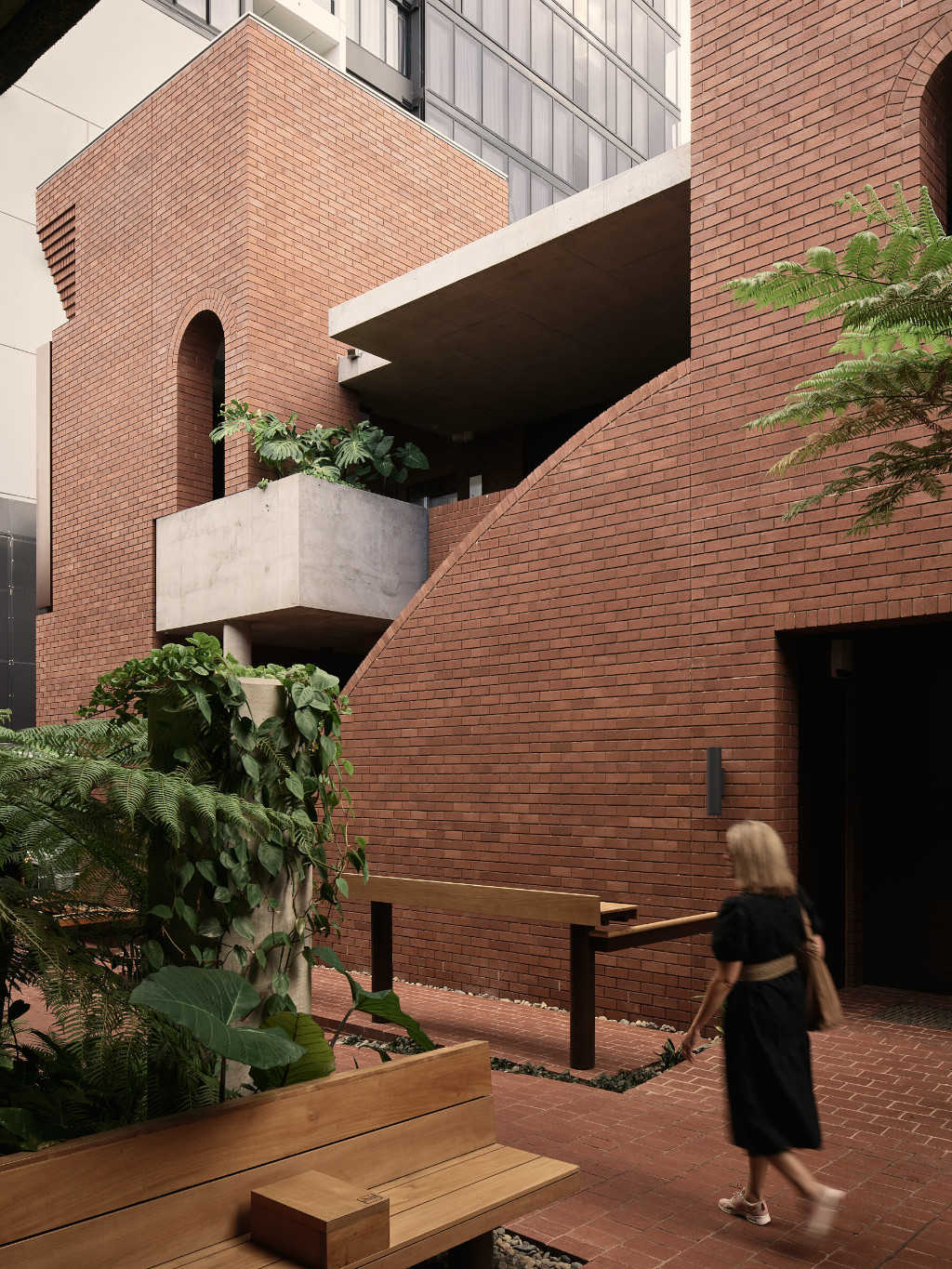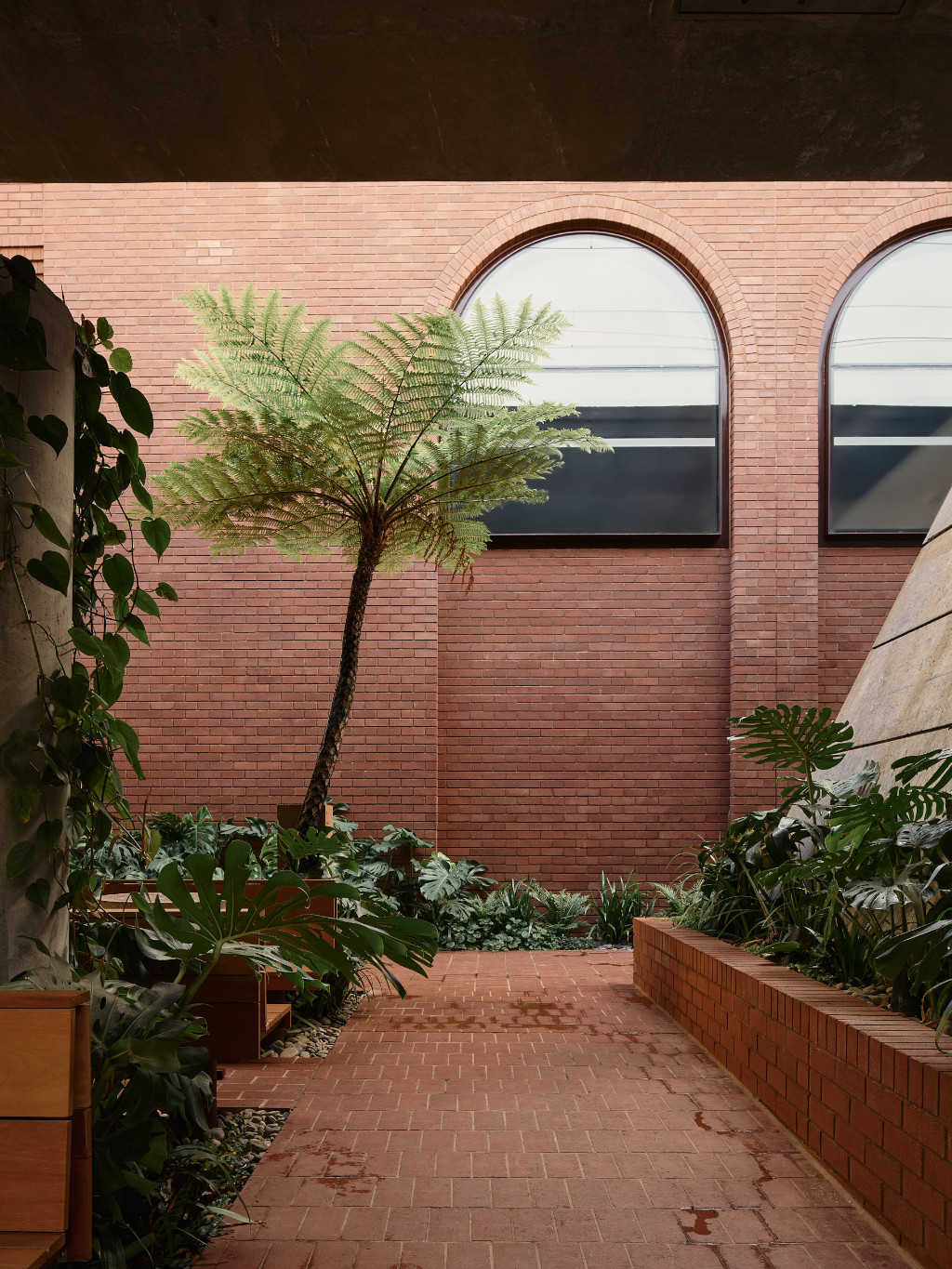 Seeking to complement the existing landscape, Ingrid Richards of Richards and Spence said of the project, "there's a legacy of brick on the laneway, that we were picking up on and which informed the colour". This brick work runs in continuation throughout the project, along the walls and down to the flooring. Jared Webb, of Richards and Spence, says of this design choice, "the brick on the ground plane really needed to work hard, it needed to be robust. We had a lot of technical requirements for it to go across pedestrian and vehicle zones". This brickwork was considered not only for its durability, but also for its aesthetic appeal, with Jared describing how, with the, "beautiful brick work, and through the depth of the bricks, by corbelling or forming shadows around windows, we were able to make the buildings feel like a solid object".
Offering a distinctly natural materiality, the building's facade is created with Bowral Bricks in Capitol Red. Reminiscent of the warm earthy clay tones abundant in Australia's natural landscape, this choice of building material complements the lush greenery encompassing the space. The architects also chose Nubrik Clay Pavers in a Custom Colour: a slightly dustier, lighter clay tone, with a natural grout, creating a design cohesion and a symbiosis that runs throughout the project.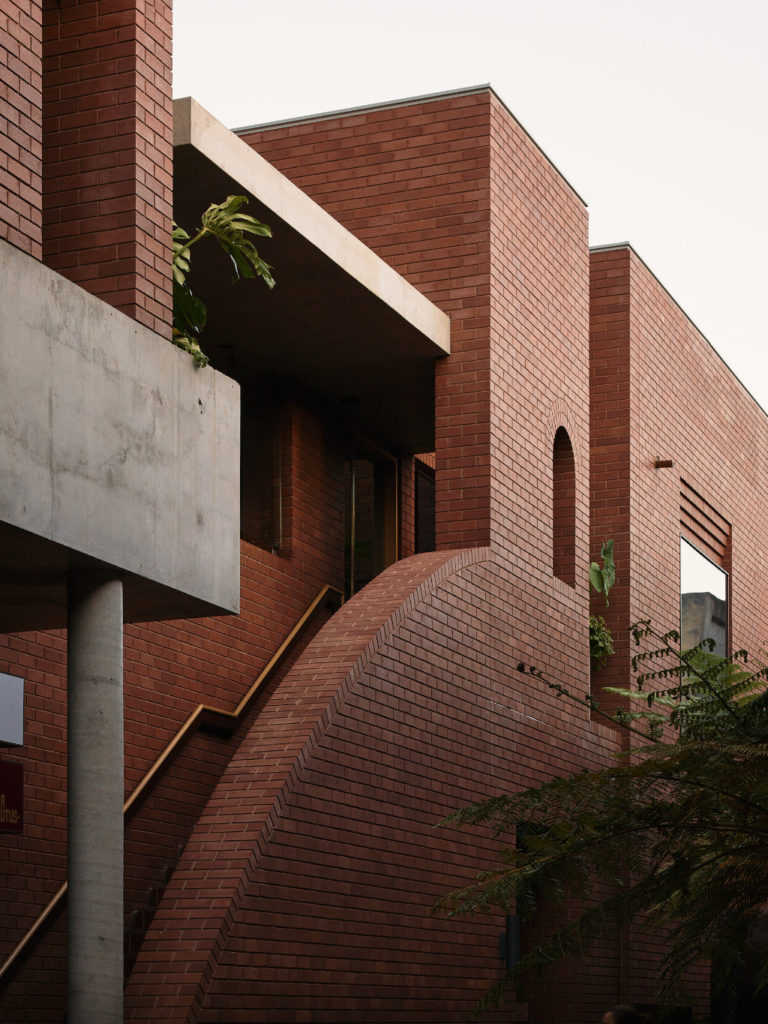 Nestled amongst tropical greenery, the Fish Lane precinct has the feel of an urban jungle. Encompassed by dense, yet considered greenery, RPS Group worked alongside Richards and Spence to transform the space into something spectacular. Complementing the brick and concrete materiality, the lush greenery creates a feeling of calm, a tropical sanctuary amongst the city's busy footprint. With Devil's Ivy scaling concrete columns, Monstera Deliciosa and sweeping Ferns lining the walkways, the entrance to Fish Lane feels almost like a greeting to a forgotten forest, shrouded beneath the city's rail line.
"Reminiscent of the warm earthy clay tones abundant in Australia's natural landscape, this choice of building material complements the lush greenery encompassing the space."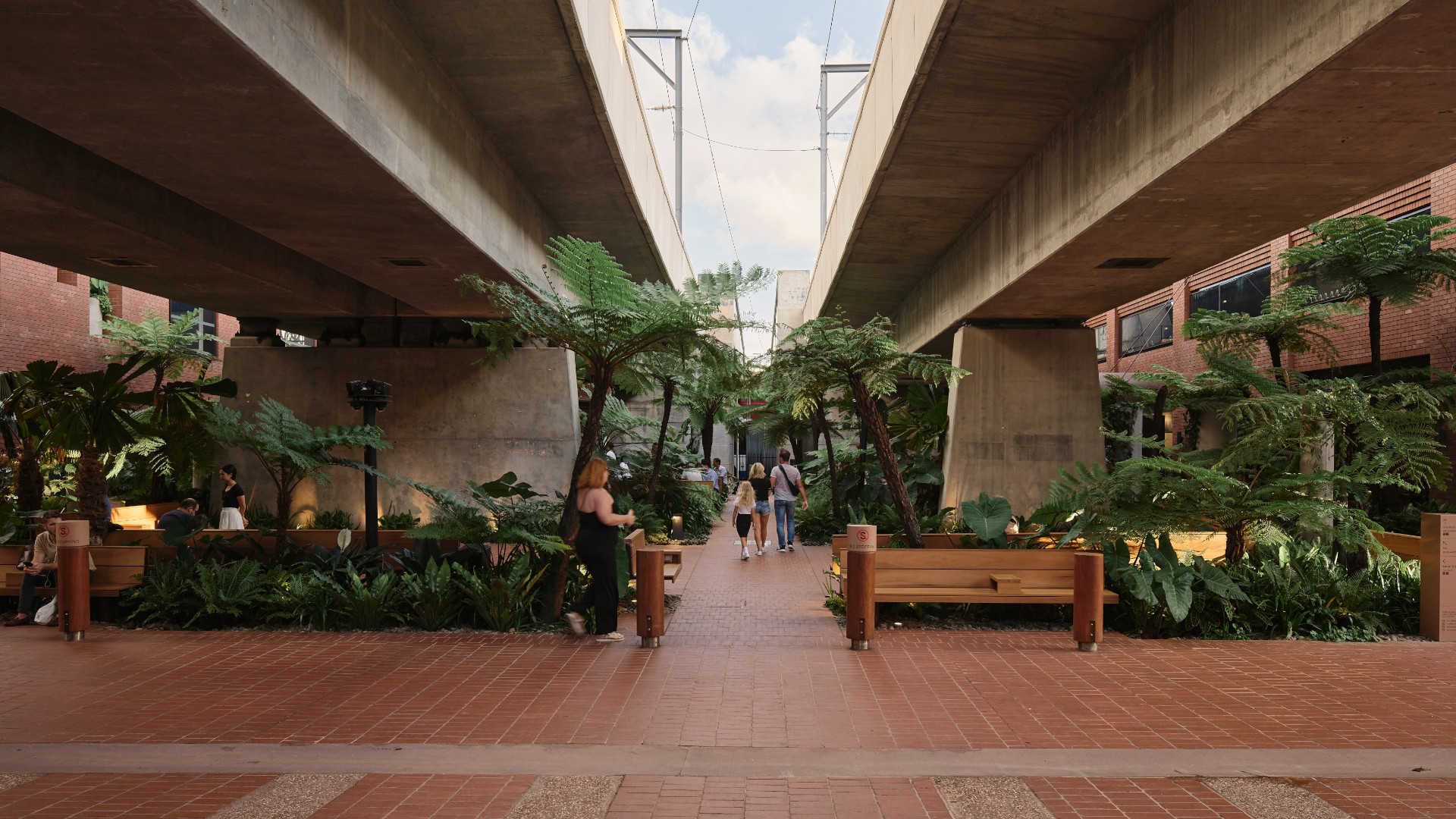 "Reminiscent of the warm earthy clay tones abundant in Australia's natural landscape, this choice of building material complements the lush greenery encompassing the space."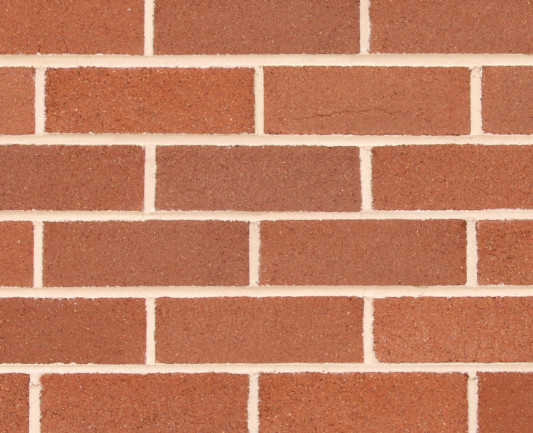 Bricks
Bowral Bricks in Capitol Red
These distinctive dry pressed bricks made at our Bowral plant have been used in many of Australia's most admired and historic buildings. With their unique granular patina and tactile aesthetic, Bowral bricks are highly prized by customers, architects and designers alike, and set the standard for design and integrity. Their sharp edges and inherent character combine with the distinctive Bowral clay colours to create what can only be a Bowral Brick.
View Product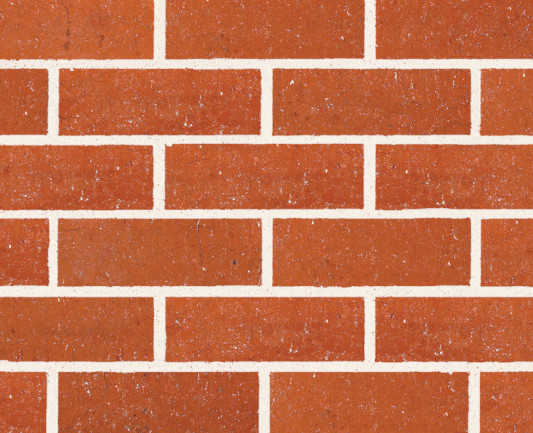 Clay Pavers
Nubrik Clay Pavers in Custom Colour
100 years is enough time to establish a tradition, and time enough to prove a point. For a century or more Nubrik's brick presses have been moulding solid, authentic pressed bricks in this premium selection. With their crisp, sharp edges Nubrik bricks exude quality and will endure for generations to come. Their elegance and honesty, rich colour blends and pressed face textures make them extremely popular with the discerning architect, builder and homeowner.
View Product
Get In Touch
Build your dream home.
Learn about our products.
Learn from the best.
Join us at an event.
Please register for this event
x
Get Inspired
Stay up to date with the latest trends, products projects and more on Instagram.