Project//
Queensland Country Bank Stadium
Architect//
Builder//
Contractor//
Photography//
Featured Products//
Custom Austral Masonry Diamond Blocks in colour standard grey (exterior) and Terracade Baguettes in Gibson (interior)
New kid on the block: a novel masonry product for Townsville's stadium
The architects behind Queensland Country Bank Stadium used customised masonry blocks to craft a building that's both strong and stylish.
In cyclone-prone northern Queensland, architects can't simply design buildings that look good – they must also pay attention to tough structural engineering criteria.
"The wind force in Townsville is twice as much as in Sydney," notes Richard Coulson from the Brisbane office of Cox Architecture. "That means any structure with a large roof is going to require some pretty significant engineering."
This structural challenge was front-of-mind for Coulson and his team when they prepared their submission to build Queensland Country Bank Stadium in Townsville. But it wasn't the only factor that complicated the design process.
Queensland Country Bank Stadium
00/00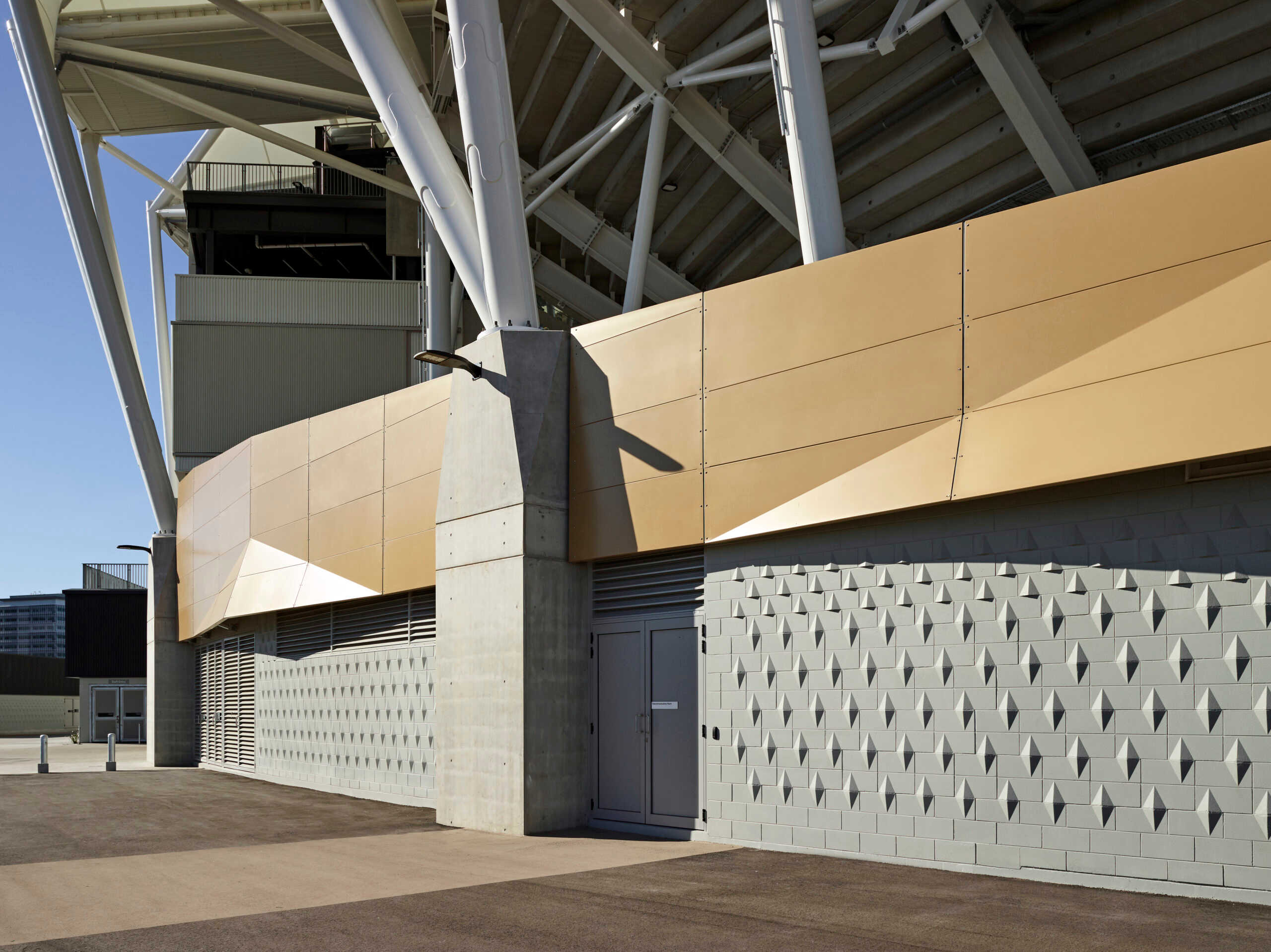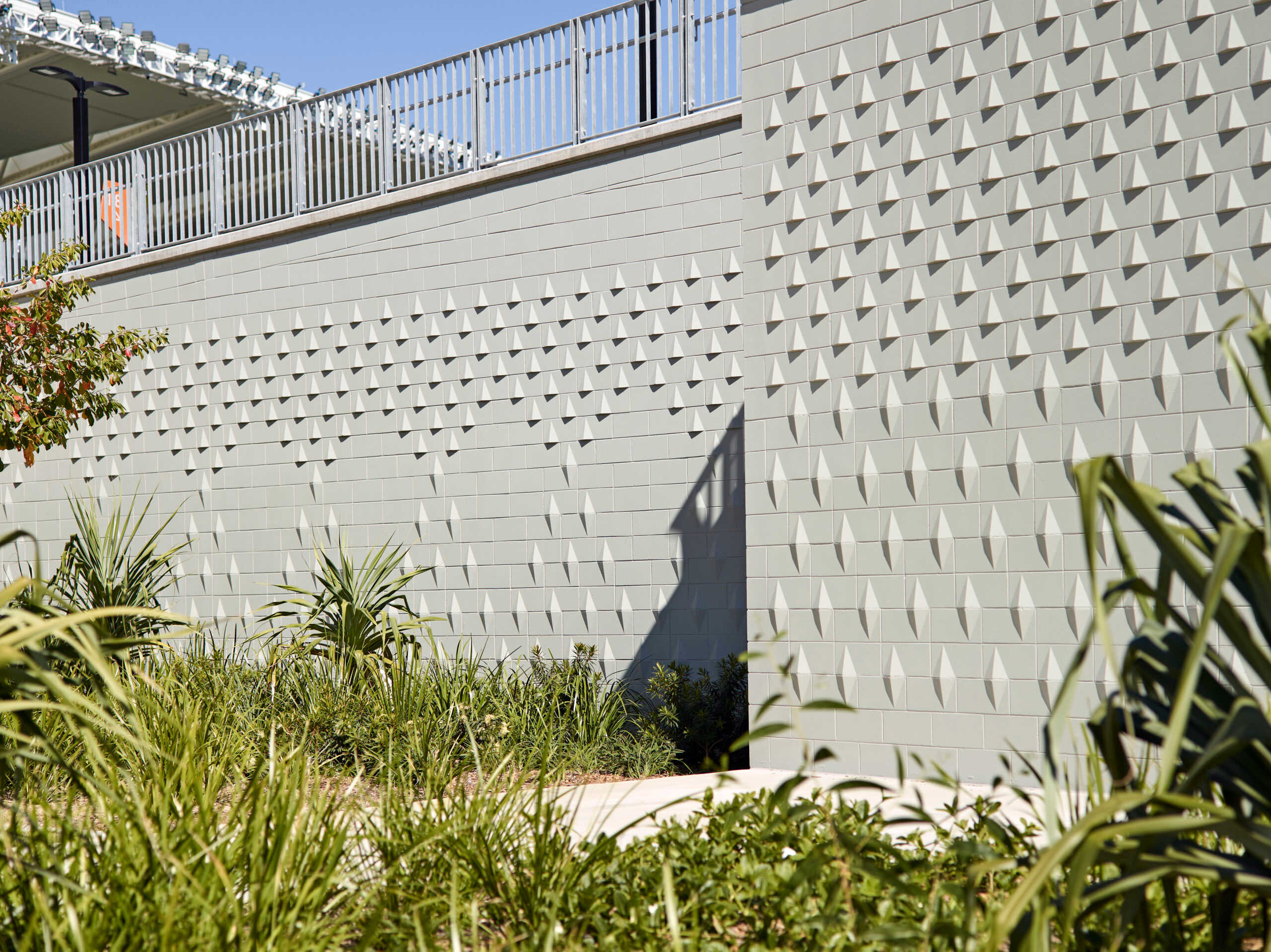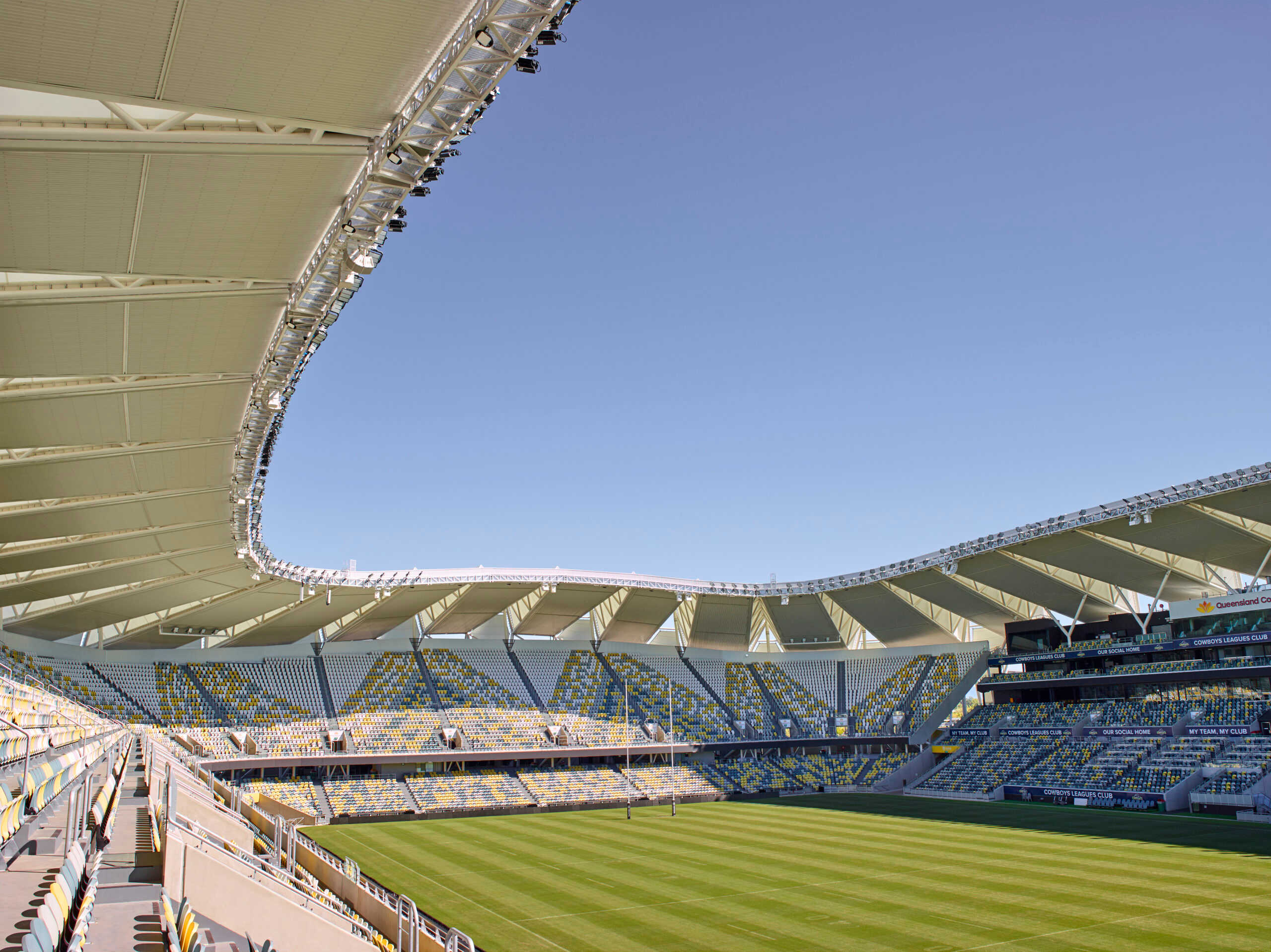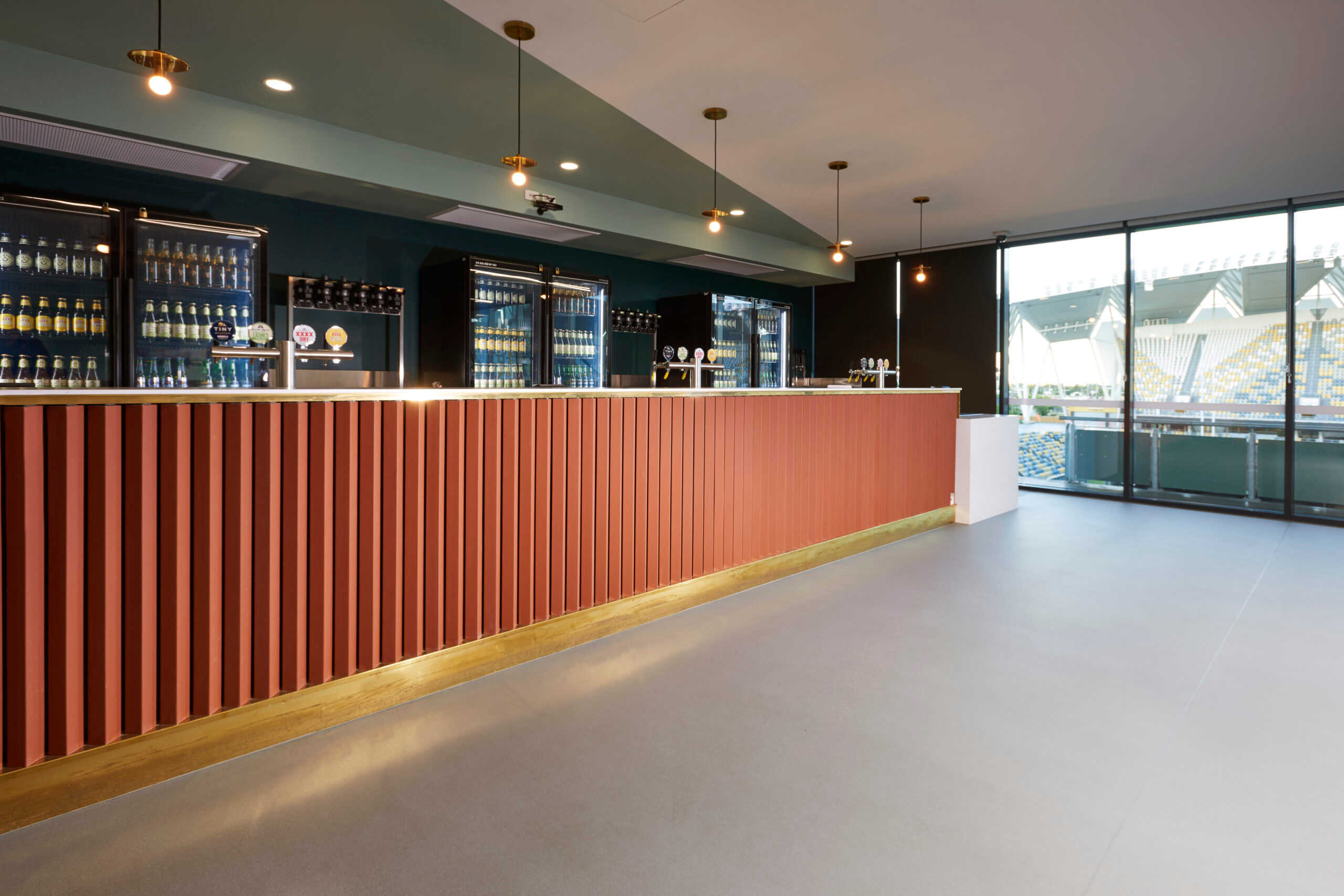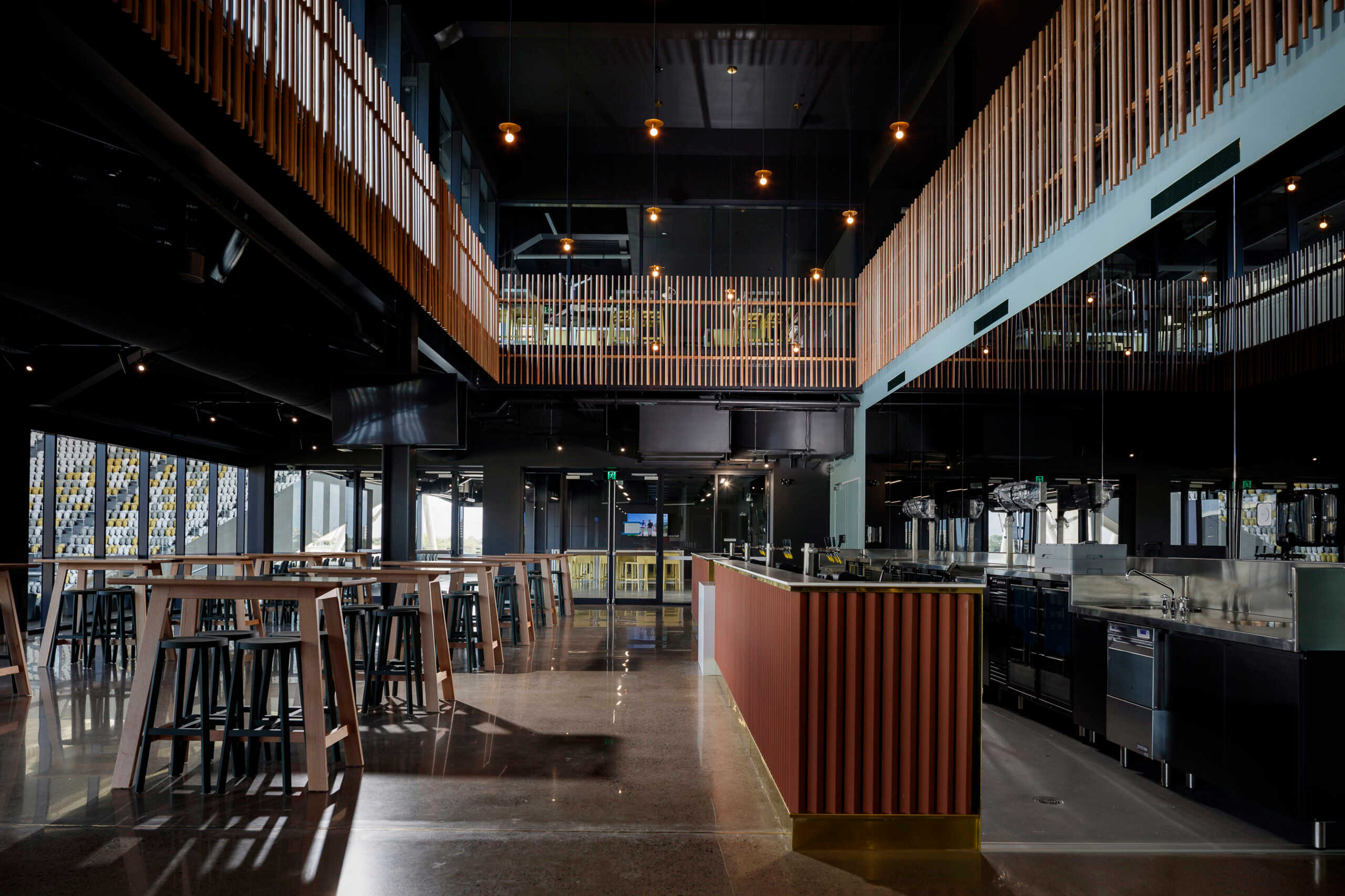 "The budget was relatively modest," says Coulson. "Stadia tend to cost about $15,000-$16,000 per seat, but we only had $9,000-$12,000 per seat. We had to make the building strong and durable but also as lean as possible."
With no money in the budget for decorative elements or other architectural extravagances, the architects pushed themselves to make the most of the building's structural components. "We worked as hard as we could to get an architecture out of those functional materials: the blockwork, the steel and the roofing," says Coulson.
They knew that masonry blocks, which are both robust and cost-effective, would help deliver the structural strength necessary to support the stadium's roof. But the team also wanted the façade to generate visual excitement – something that standard blocks could not easily achieve.
"We knew that the diamond blockwork would create a really strong pattern on the building for a relatively minor cost"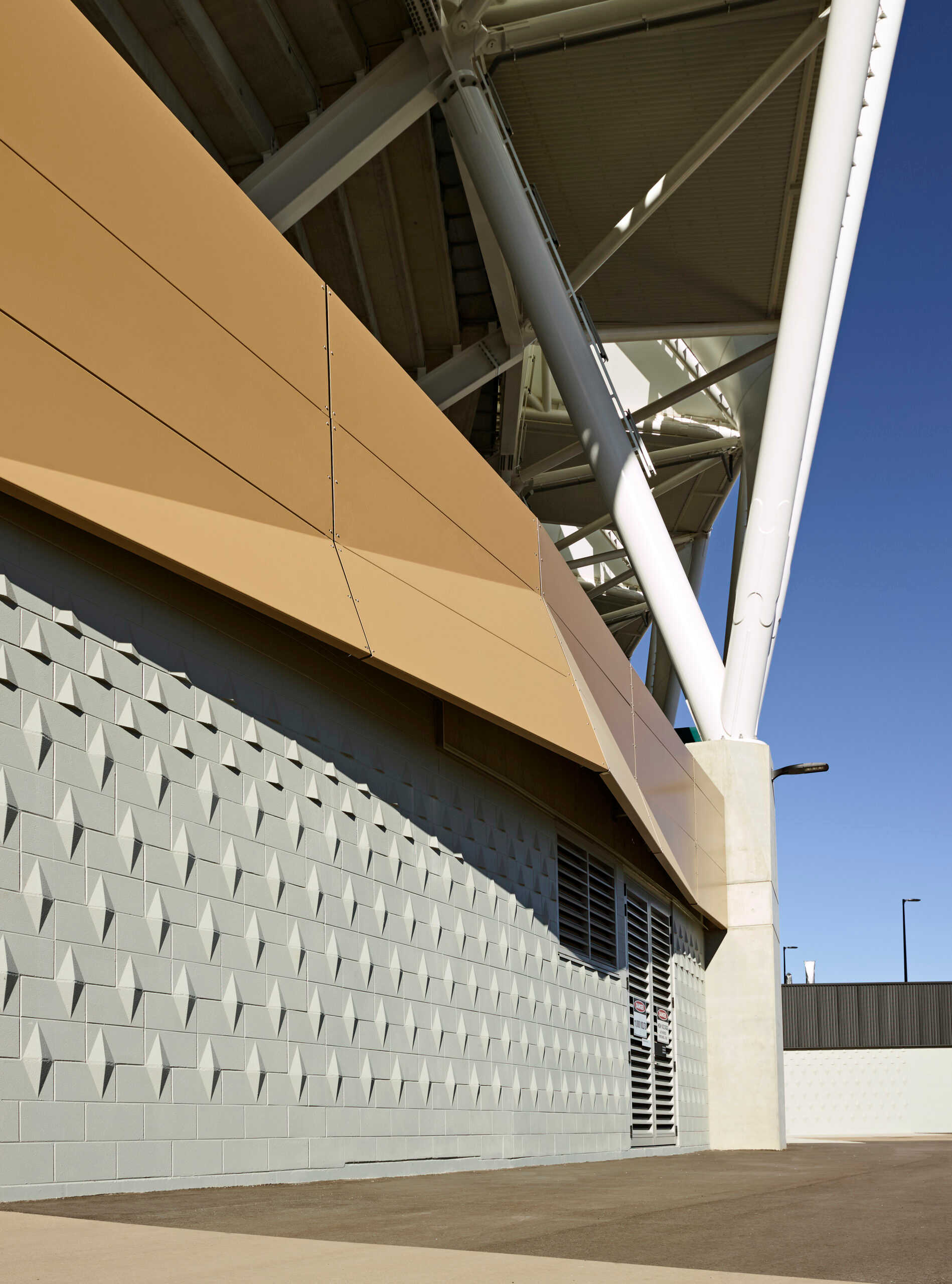 "We knew that the diamond blockwork would create a really strong pattern on the building for a relatively minor cost"
"We thought if we could tweak the blocks a little bit, it could be a way of capturing the strong tropical light really well," says Coulson. So, in consultation with Austral Masonry, Cox Architects developed a block with a diamond-shaped face. "We knew that the diamond blockwork would create a really strong pattern on the building for a relatively minor cost."
Even better, the blocks could be manufactured in north Queensland. "We were looking for materials that delivered employment to locals," says Coulson. "It couldn't be some insane European façade that had to be imported. That was a strong driver for all of the material selections and we think that resonated in our submission."
When it was time to design the venue's interiors, the team was similarly focused on cost, durability and Australian-made materials. In the stadium's refreshment areas, they made extensive use of another product from the Brickworks family: the Terraçade baguette.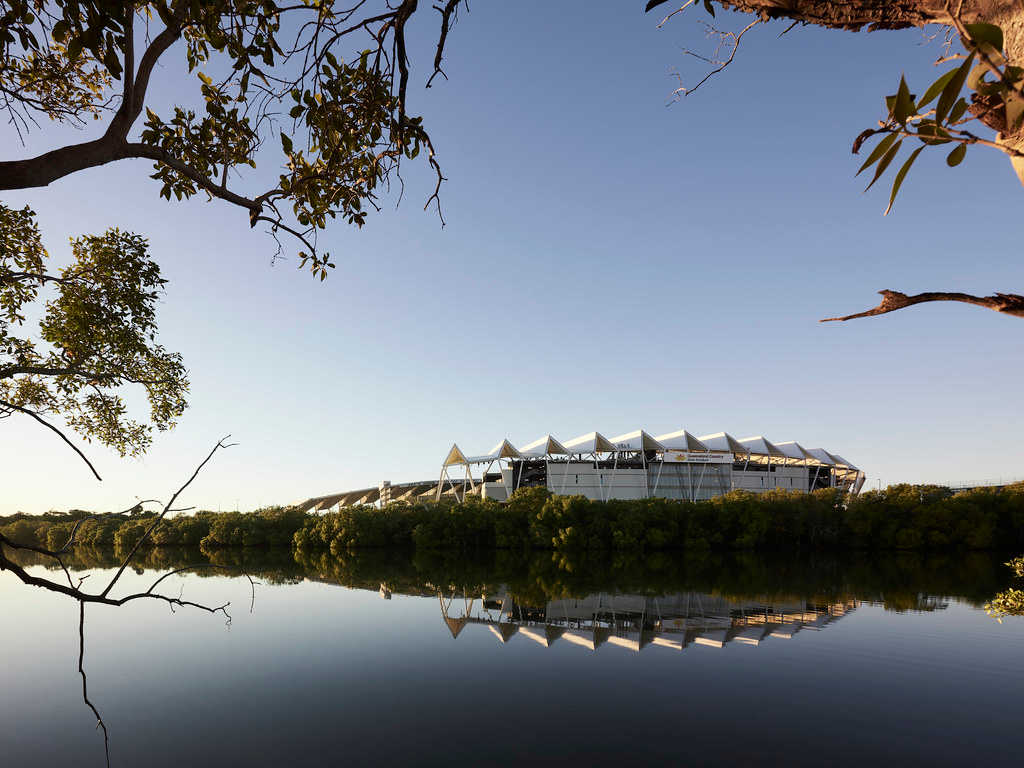 "The baguette is a pre-finished, coloured solution, which is always attractive to us," says Coulson. "When you scratch terracotta, all you get is terracotta – that's valuable in a high-traffic area."
Then, finally, came the roof. "The landscape in Townsville is so powerful, with Magnetic Island and Castle Hill and Mount Stuart," says Coulson. "It's a bold setting, and we thought we needed a roof with a sculptural quality to be seen against it."
The architects drew inspiration from the form of the pandanus tree, a plant that's endemic to Queensland and can be found throughout the state. The resulting metal roof, with its fanned triangular membranes, conveys a distinctive sense of place. "The stadium is really for all of north Queensland, not just for Townsville," says Coulson, "and I think the roof reflects that."
Get In Touch
Build your dream home.
Learn about our products.
Learn from the best.
Join us at an event.
Please register for this event
x
Get Inspired
Stay up to date with the latest trends, products projects and more on Instagram.