The Wright Stuff. When in Balgowlah do as the Romans did.
Location
Function
Builder
Architect
Watershed Design (design), Fox Johnston (design detailing, documentation, administration)
Structural Engineer
Photography
The ancient Romans didn't 'invent' bricks – that honour probably belongs to China and south Asia – but they put brick manufacturing on an industrial scale and spread the technology throughout their vast empire.
Roman bricks varied widely in size some being almost a metre long, but they were characterised by their low height in relation to the width, what we call their low aspect ratio.
In the 20 th century, the Roman brick concept was popularised by the renowned American architect, Frank Lloyd Wright in his famous Robie House completed in 1910 in Chicago. The bricks Wright chose had a face area of about 300 x 50mm, an aspect ratio of 6 to 1. In contrast, a standard Australian brick has a face of 230 x 76mm or a little less than 3 to 1.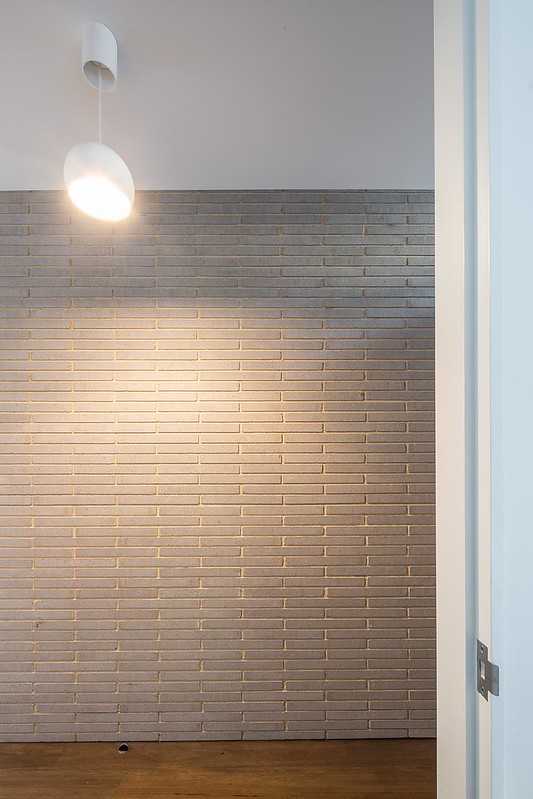 The broad aspect of the latter-day Roman bricks not only gives a point of architectural difference from standard bricks or their squat masonry block cousins, it also creates an illusion of greater expanse. This wasn't lost on Wright who used this and other horizontal cues to give the look of the wide open spaces to his appropriately-named Prairie Style.
As Australia's largest manufacturer of concrete and clay masonry, Brickworks Building Products offers not one but two distinct ranges of ultra-wide- format masonry. Bowral Bricks Bowral 300 dry-pressed clay bricks have a face of 300 by 50mm, identical to those used by Wright, while Austral Masonry GB Veneer concrete masonry units are a mighty 390mm wide by 40mm high, an almost 10 to 1 aspect ratio!
It's the latter that were chosen for a comprehensive rebuild and extension to a house in Balgowlah Heights, a Sydney suburb adjacent to Manly but a world away from its tourism and bustle. The family was seeking more and better accommodation, including guest facilities and room for a pool. The design was carried out by Watershed Design, while Fox Johnston did the design detailing and documentation and took the project through to completion.
The sole remnants of the former single-storey house were two front rooms, now a playroom and guest suite, including a full bathroom. The living areas were built on the back, and upstairs are the main sleeping quarters with three bedrooms, a family bathroom and en suite to the master. The all-important pool is connected seamlessly to the living areas by timber decking.
The new external walling is constructed with GB Veneer concrete masonry laid as a conventional stretcher bond with standard 10mm joints in a grey mortar. The masonry units have a honed surface finish, a process which grinds the top two-to- three millimetres from the block face to expose the matte aggregate finish.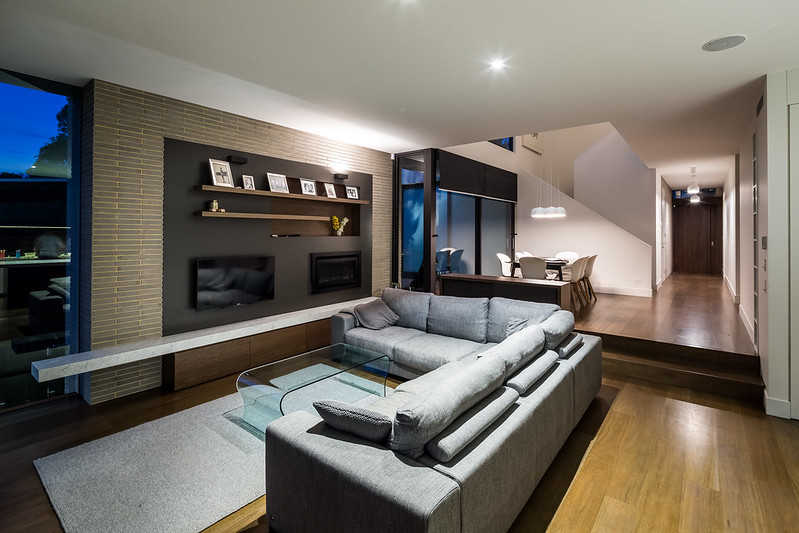 The use of these ultra-wide- format masonry units is continued internally, most prominently in the stand-out feature wall in the living area which houses a fireplace and TV. This wall treatment is repeated on the opposing wall flanking the kitchen, and in the garage and its facing passage wall.
The suggestion to use wide-format masonry units came from the clients. "They had seen a similar product elsewhere and were interested in it," says Nicola Fuller, the project architect for Fox Johnston. "We did some research with Brickworks Building Products as to what units were available and whether they would be applicable. We hadn't used these wide masonry units before but I think they work well in this house. They give a bit of textural variation," she adds. Conrad Johnston was the director in charge of the project.
The colour chosen, Nickel, one of eight available in the GB Veneer series, sits well with the external and internal schemes and provides a pleasing contrast to the timber flooring and joinery. Although these units are longer than a standard brick they weigh much the same, an important consideration for efficient bricklaying. However because of their shallow height they demand greater precision than standard bricks and concrete blocks, which are more 'forgiving'. The bricklaying in this project is exemplary, with consistent mortar joint thicknesses and strict alignment of the bed (horizontal) and perpend (vertical) joints.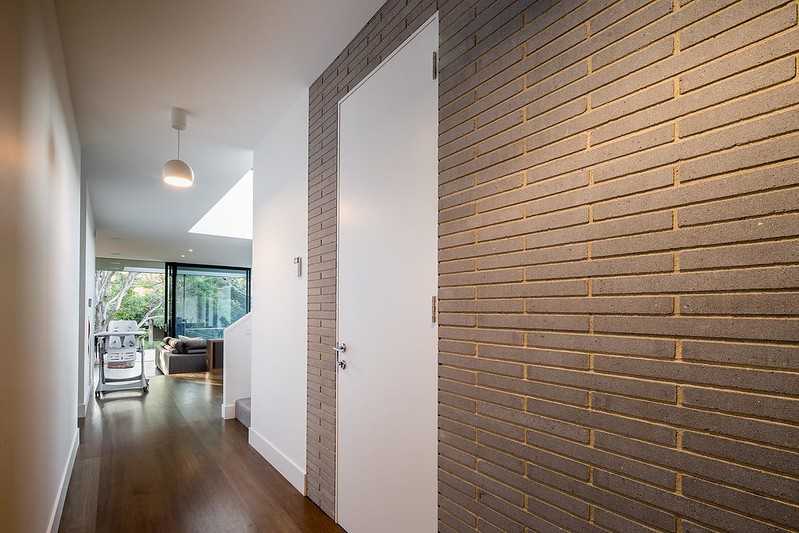 For this application, the mortar joints were raked, that is recessed to a depth of about 10mm. In some projects, the perception of width has been enhanced even further by raking the bed joints but leaving the perpend joints flush.
Austral Masonry's GB Veneer series is also available in a Split Face finish, which has a boldly-textured face that is unique to each unit. Smooth and Split Face units can be combined to create uniquely-textured feature walling, for example in alternating courses for a corduroy effect.
The project "came together really well," says Nicola Fuller, adding that the clients "were very happy with it."
Frank Lloyd Wright was a complex man, a conceited visionary who thought about and wrote widely on the subject of art, architecture and human values. He famously said "If you wisely invest in beauty, it will remain with you all the days of your life." We are confident that the owners of the Balgowlah Heights House have made an outstanding investment in their future.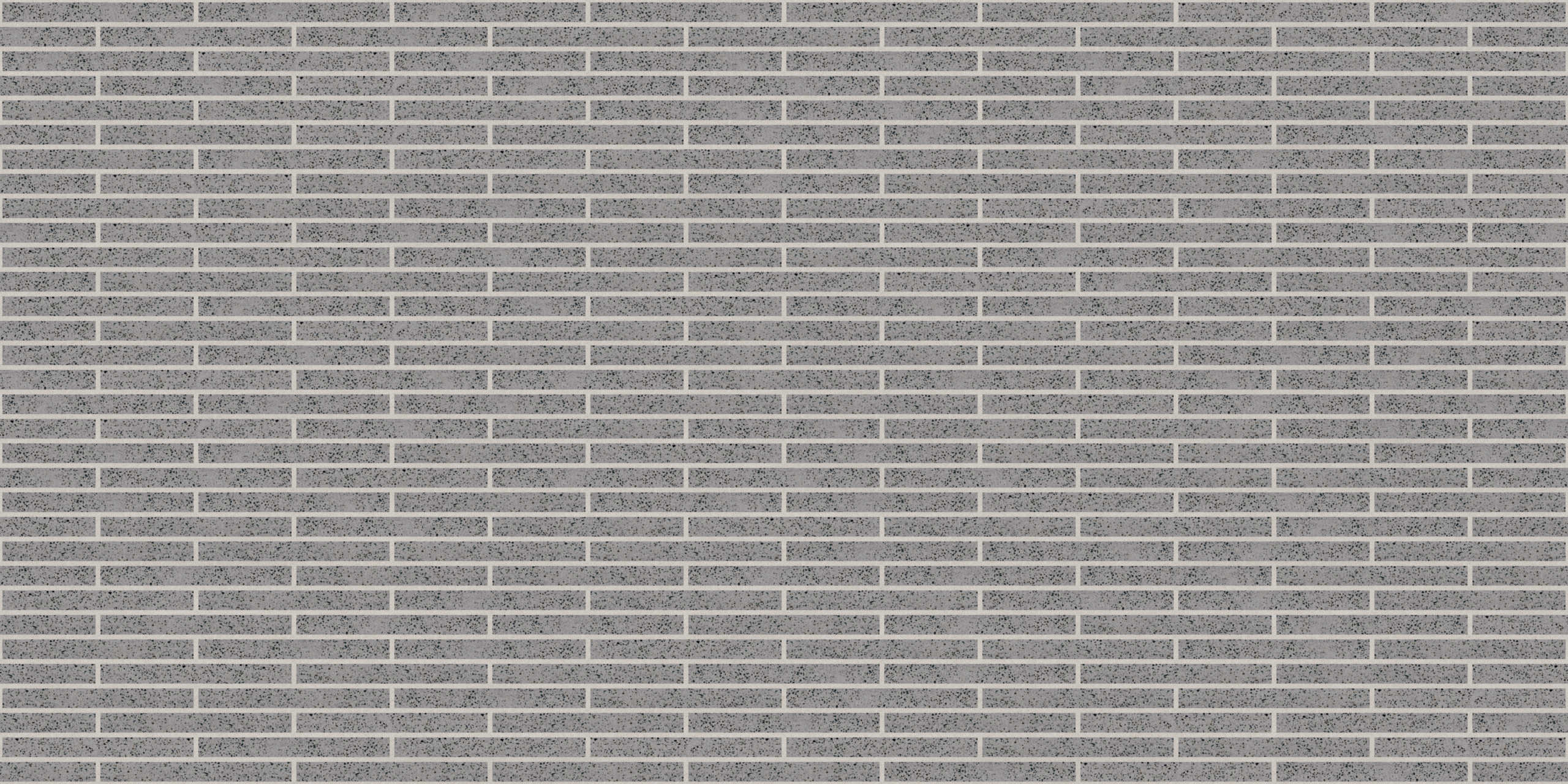 Blocks
GB Masonry Veneer Sawn Face in Nickel
Contemporary colours, long slimline shape, and lustrous sawn face finish combine to create a distinctive style and add a modern flair to your home.
+ Learn more
Get In Touch
Build your dream home.
Learn about our products.
Learn from the best.
Join us at an event.
Please register for this event
x
Get Inspired
Stay up to date with the latest trends, products projects and more on Instagram.