The Australian climate lends itself to scorching hot summer weather, so there is nothing better than taking a dip and cooling off in a serene pool oasis. We've compiled a list of our favourite poolside design ideas to get you inspired, just in time for summer.
Project
Visit Product Website
Project
Architect
Builder
Landscape Architect
Eckersley Garden Architecture
Photography
Project
Visit Product Website
Architect
Photography
Location
Bricklayer
J&O Bricklaying (@jobricklaying)
Project
Visit Product Website
Architect
Architects Eat, Albert Mo
Photography
Project
View Product Website
Architects
Photographer
Project
View Product Website
Architects
Chenchow Little Architects
Photographer
Project
Product
GB Masonry Breeze Block Wedge in Porcelain & Honed Blocks in Porcelain
Builder
Photograph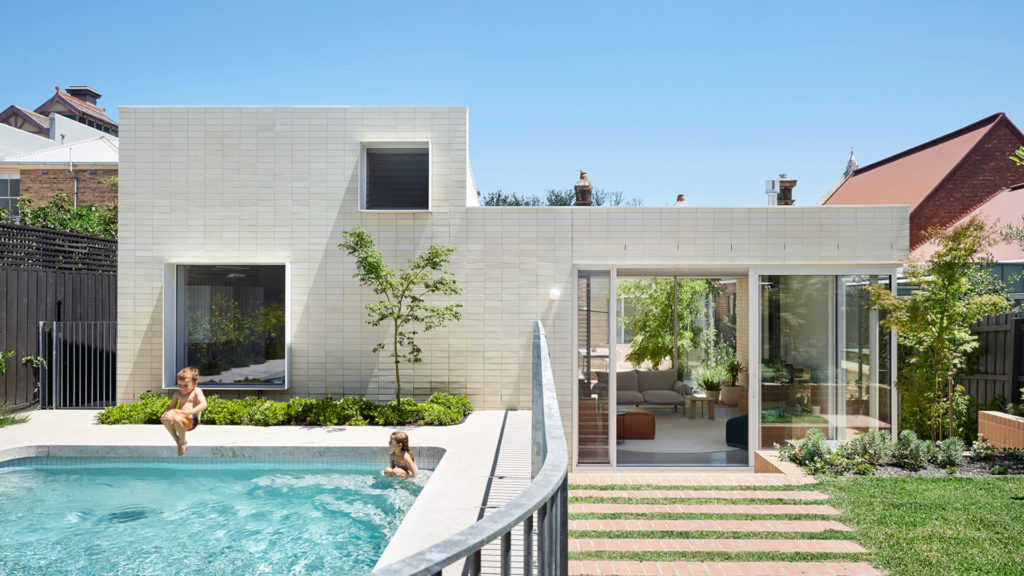 Contemporary Family Oasis
This contemporary pool space by Clare Cousins is a young family's dream. Crisp white pavers envelope the pool, reflecting light and brightening the area. Integrating a fresh colour palette, neutrals are contrasted beautifully with lush green lawns and crystal blue water. On the lawn, brick pavers create a stepping stone formation, serving both aesthetic and functional purposes. With curved pool edges contrasted with sleeker linear features of the house's façade and garden, this space has a timeless edge that will transition seamlessly from season to season. To recreate this look, surround your pool with UrbanStone's Keope Porcelain pavers in Quartz, as their non-slip qualities ensure a safe yet striking final result.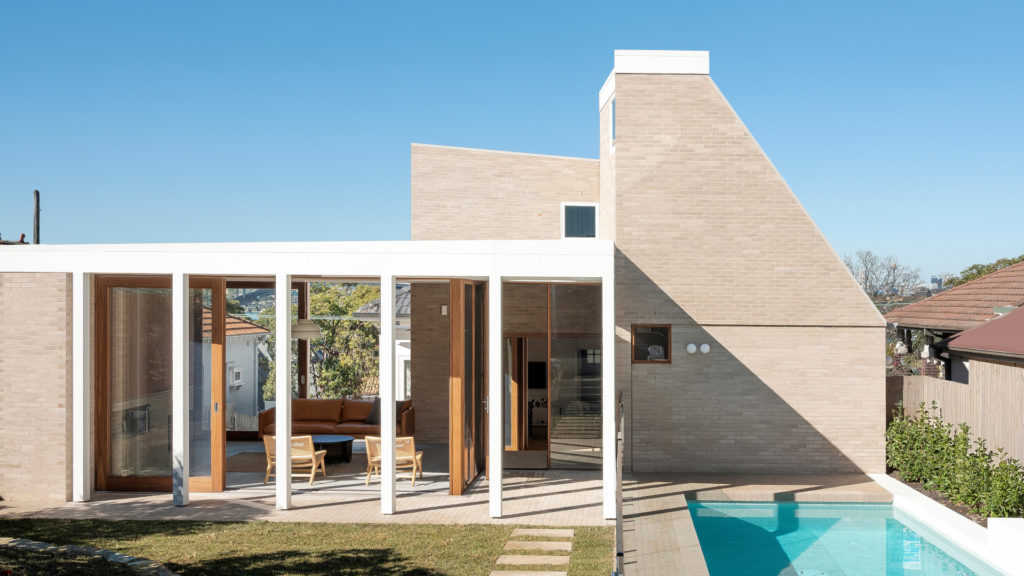 Ultra-sleek Minimalism
Focussing on simplicity, this space by Benn and Penna Architects employs sleek lines to create a sense of contemporary sophistication. The elongated, rectangular pool sits off-centre, sharing the space with the lawn and patio. The muted colour palette of the backyard contrasts with the bright, balmy blue shade of the pool. The glass fencing around the pool allows clear sightlines throughout the garden, allowing it also to be flexible to decorative design changes. The slate-coloured pavers, achieved using Bowral Bricks in Simmental Silver, are placed perpendicularly along the pool's edge, adding some subtle intricacy and interest to the minimalistic area.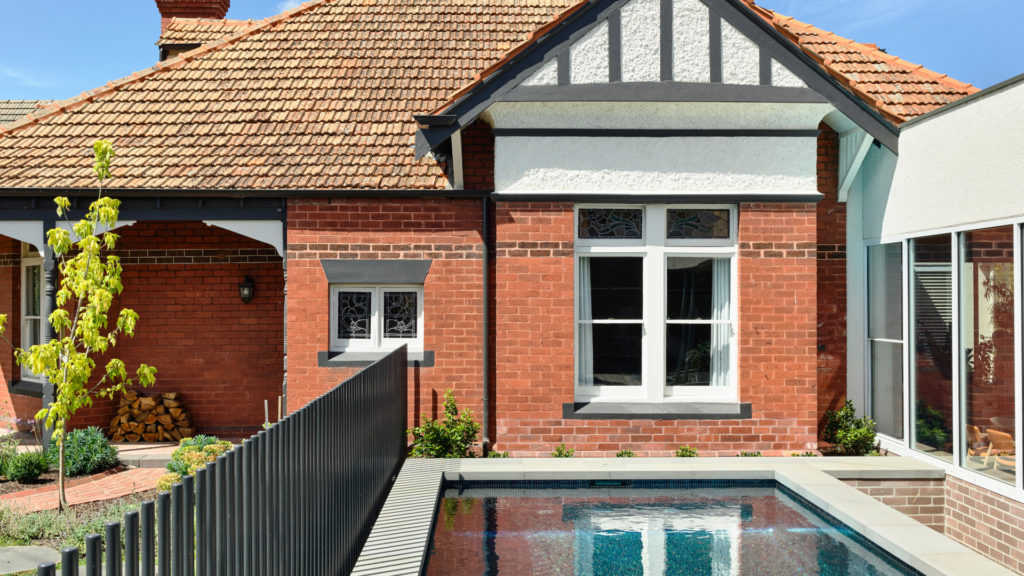 Edwardian Dream
This Edwardian house by Architects EAT uses earthy, natural materiality to create a seamless flow between the indoors and outdoors. The placement of the pool and installation of large-scale windows, allows it to be visible from the living room, ensuring parents are able to keep an eye on children playing poolside. When the sun shines on the water, a glittering reflection creates a dappling effect on the internal ceiling, illuminating the space with calming luminescence. Adding modernity to the Edwardian residence, the home's Bowral Brick exterior in Murray Grey contrasts strikingly with the cool-toned Bowral Hamlet Pavers in Ash that wrap the pool. You can find both of these products at Brickworks.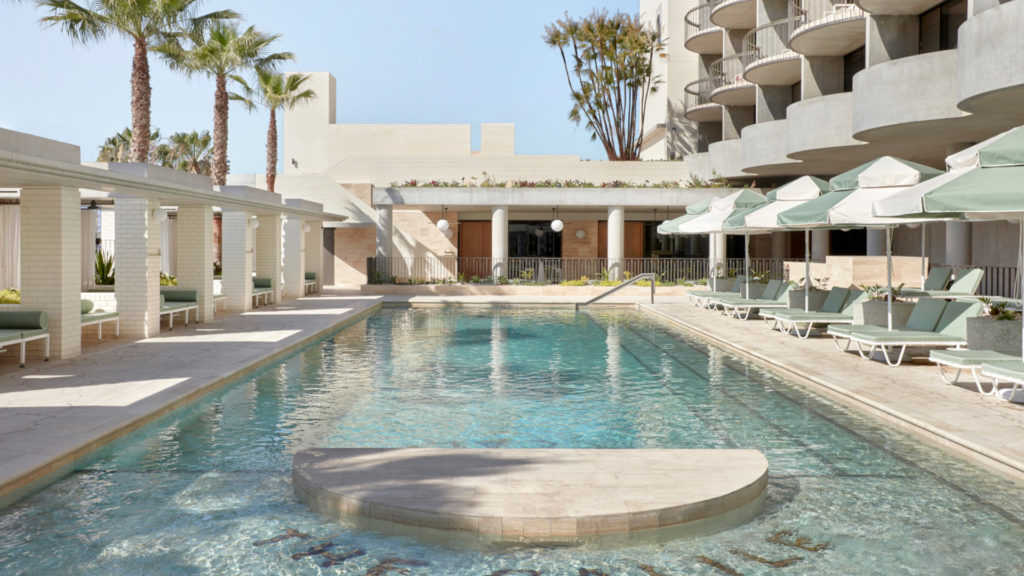 Pastel Resort
The iconic Calile Hotel by Richards and Spence features a large rectangular pool surrounded by sage green umbrellas and ivory brick-cladded pillars, using Austral Bricks' La Paloma bricks in Miro. It's expansive size is emphasized by underwater graphics that visually extend its length. One end of the pool features Baja shelving and an island, encouraging guests to take a seat while dipping in their toes. Paved islands can be great for entertaining, particularly in larger areas. To create a similar look at home, add outdoor seating, fun umbrellas and cocktail tables, and your backyard can transform into a luxurious resort overnight. Austral Bricks GB Honed Pavers in Limestone are an especially good choice as they come in a large variety of textures and colours, and their materiality allows them to reflect heat, keeping your poolside space cool.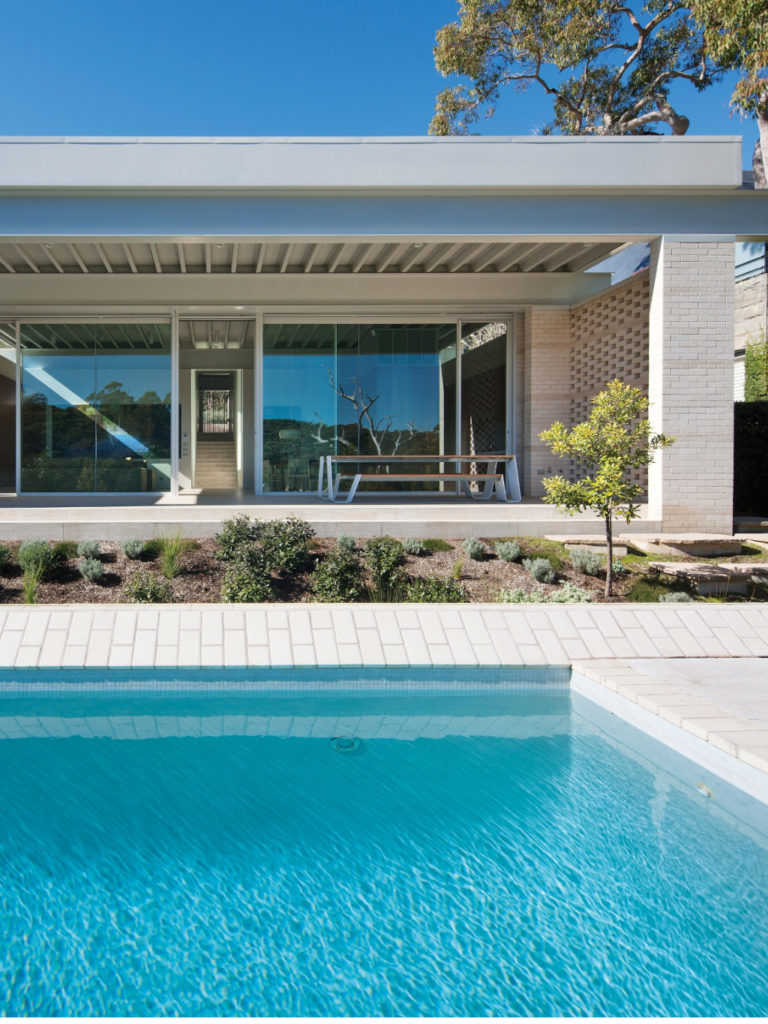 Australian Dream
Surrounded by sweeping bushland, this white, modern home by Chenchow Little Architects embraces the natural Australian landscape. The seamless, off-white volumes of the dwelling and swimming pool stand in contrast to the surrounding natural environment, brightening and injecting a new palette into the space. This raised pool acts as a central feature of the backyard, beautifully framed by a variety of native Australian plants. Incorporating natural flora into your pool space is a great way to create an organic, untouched look. Employing a stretcher bond pattern, these brick pavers add subtlety and freshness. To incorporate this minimalistic look into your pool area, opt for Bowral Bricks in 'Chillingham White'.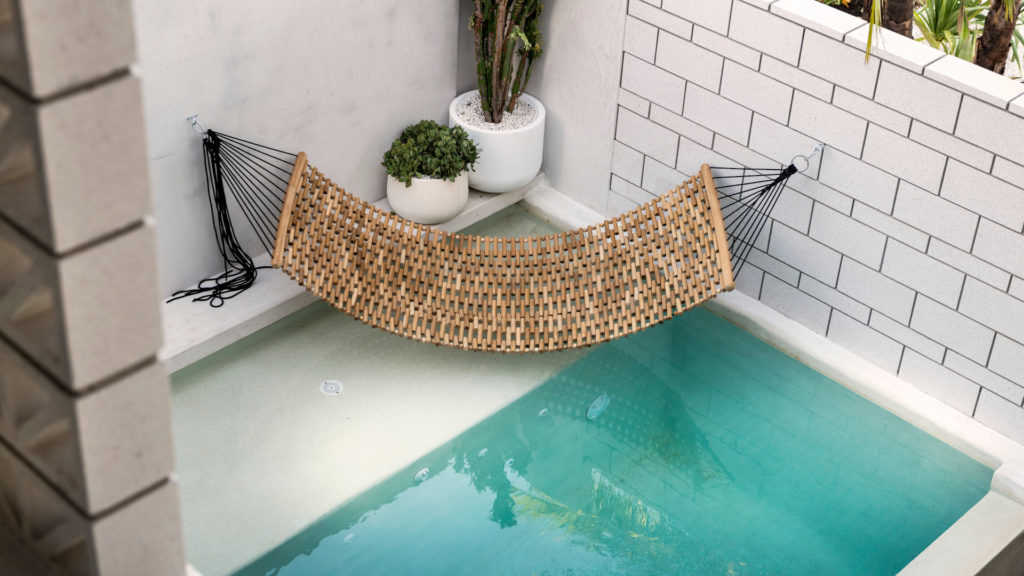 Palm Springs Haven
Channelling a California Dream, this courtyard pool depicts a desert mirage with its minimal palette of pristine whites and aqua blue tones. Proving you don't need an expansive backyard to install a pool, Webb and Brown-Neaves have employed large paver slabs to give the illusion of more space. Focussing on height also elevates the space, particularly the integration of Brickworks' Breeze Blocks as a feature wall. This repetitive element adds interest and texture to the area, while also having the functional purpose of circulating air and creating a sense of privacy. The pool itself incorporates opulent Baja shelving which minimises the depth, which is perfect for children.
Get In Touch
Build your dream home.
Learn about our products.
Learn from the best.
Join us at an event.
Please register for this event
x
Get Inspired
Stay up to date with the latest trends, products projects and more on Instagram.