Project//
Arkadia Apartments, Alexandria Sydney
Architect//
DKO Architecture and BREATHE Architecture
Featured Products//
A new multi-residential apartment complex in Alexandria has paved the way for a new era of sustainable building.
Arkadia is a 152 multi-residential building in the growing inner-city suburb of Alexandria, NSW, which is built from half a million recycled bricks.The complex, which was designed by award-winning architects DKO and BREATHE Architecture, is revolutionary in its challenge of typical city living, creating a community that combines lush green spaces and a number of sustainable initiatives.
The stunning apartments show that inner city living doesn't need to be synonymous with a disconnect from nature, and that through thoughtful design, residents can enjoy urban living that embraces their natural environment.
"We had a mantra of a small community is a good community. There are statistics that you can relate to up to 40 people in your community, if it gets larger than that, it starts to become anonymous.' "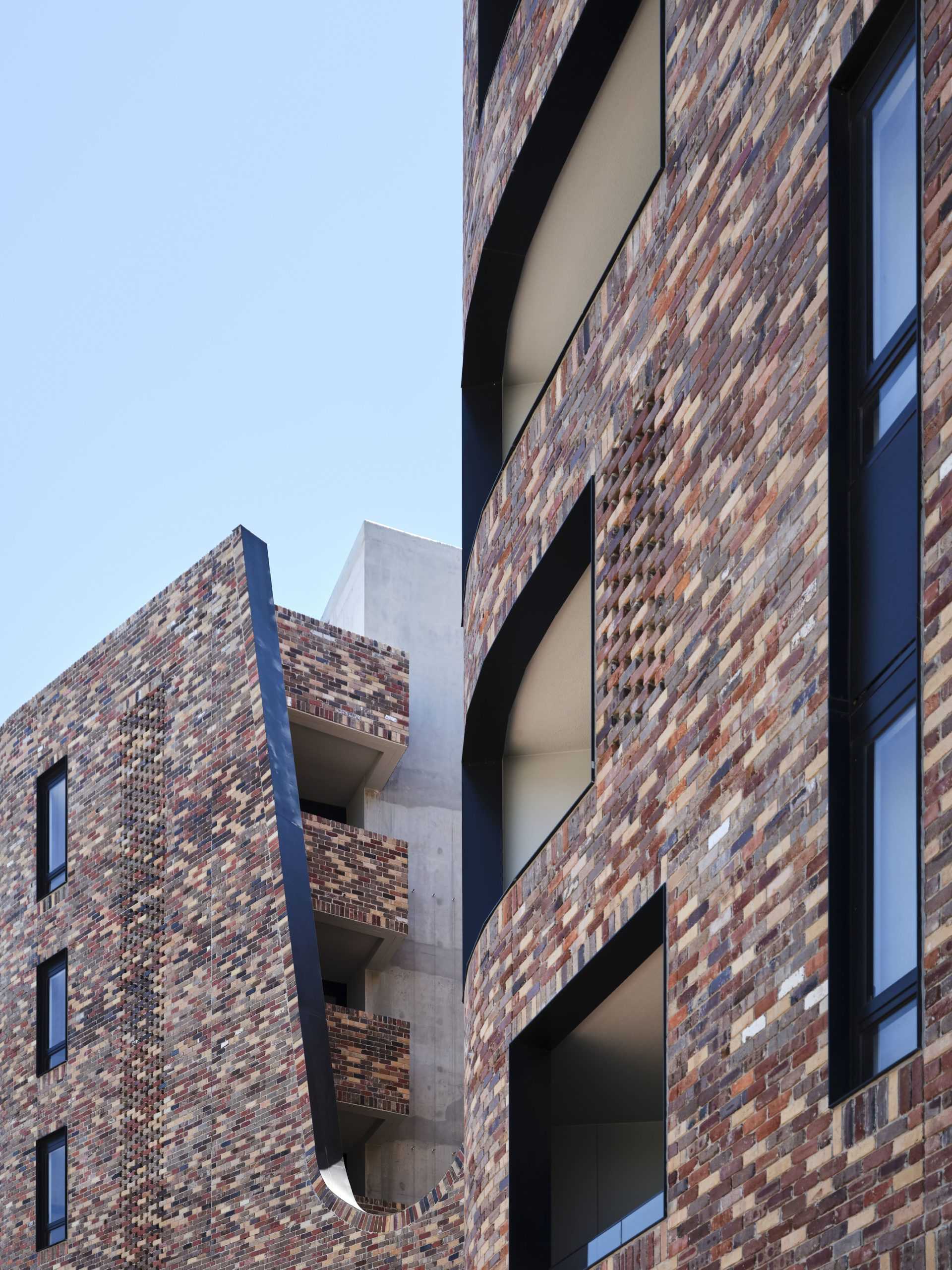 "We had a mantra of a small community is a good community. There are statistics that you can relate to up to 40 people in your community, if it gets larger than that, it starts to become anonymous.' "
Arkadia represents a reimagination of apartment living, setting a new benchmark for multi-residential projects that can foster community, social interaction and neighbourhood integration. Encapsulating a kind of 'urban wilderness', residents inhabiting the 128 apartments and 24 terraces can enjoy the great outdoors through multiple break-out spaces and gardens surrounding the building.
Developed for Defence Housing Australia, the complex is occupied by 50 per cent defence force personnel and their families, whilst the general public occupies the remaining 50 per cent. It was a considered approach from both DKO and BREATHE Architecture to encapsulate all the benefits of living in a typical suburban home into this multi-res development, so residents can enjoy an urban lifestyle without missing out on the luxuries synonymous with stand-alone homes, such as space, privacy and proximity to nature.
Arkadia apartments were designed to bring people together. As DKO Principle Koos de Keijzer told Architecture Australia, 'We had a mantra of a small community is a good community. There are statistics that you can relate to up to 40 people in your community, if it gets larger than that, it starts to become anonymous.'
To combat any atmosphere of isolation within the large development, the complex is broken up into four separate 'lift cores' so that each subset of residents have their own rooftop garden on an intermediary floor, complete with communal veggie patches and BBQ areas.
These subsets were created to encourage regular chance encounters between groups, so that residents can form connections with their neighbours as they frequent these communal areas. The top level features a communal space that can be accessed by all residents, where they can access an 'architecturally designed' chook run, seating pods, and sheltered areas where they enjoy uninterrupted views of Sydney Park and Sydney's Skyline.
On the importance of creating a space that fosters social interaction, Koos de Keijzer says, 'DHA were particularly interested in aspects of community and safety. A lot of defence force personnel might be sent on postings for five or six months so there'll be one single parent left with the kids. The whole aspect of sociability became important.'
The sustainable characteristics of Arkadia apartments are unmistakable, as the building's incredible recycled brick façade symbolises the building's ecological ethos that is represented from the inside out. The building's structure is partly comprised of Bowral Bricks Bowral Blue for their sharp edges and inherent character, as well as half a million multi-coloured bricks that were salvaged from multiple demolished buildings in NSW. Many of these recycled bricks were returned to their place of origin for this project, as the 5590 square metre site was originally a City Brick Co, in which Brickworks acquired in 1937.
The use of brick as the predominant building material was integral to lowering the environmental footprint of the apartment complex. Made from shale and clay which is naturally abundant, bricks area healthy and environmentally sensitive building material.
They can be reused with their original properties and features intact, and because bricks do not contain harsh chemicals, plastics or artificial compounds, brick buildings are healthy environments to live in. The ability to reuse brick also lengthens their lifecycle and ensures the energy used in their manufacture is spread over a longer period of time, thereby taking advantage of its longer lifecycle to achieve greater efficiency in energy use.
The use of brick is also a significant part of the building's passive solar design, which optimises the suns exposure to heat and cool the building's interior. Being high-density materials, the thermal mass of brick has the ability to absorb and store heat, moderating temperature extremes to create a comfortable internal air temperature.
To complement the thermally efficient envelope of recycled bricks, the façade is articulated with deep reveals and solar shading to the north and west, with window openings incorporated to allow cross ventilation, summer shading and winter sun penetration.
DKO and BREATHE won a City of Sydney design excellence award for Arkadia Apartments in 2015, the first time the two practices have collaborated. With its smart design, connection to nature and community-minded atmosphere, Arkadia signals a new era for sustainable multi-residential developments.
Get In Touch
Build your dream home.
Learn about our products.
Learn from the best.
Join us at an event.
Please register for this event
x
Get Inspired
Stay up to date with the latest trends, products projects and more on Instagram.