There can be a challenge in designing a building that is complementary to its streetscape while also standing out. This is particularly difficult in a mixed-use area with a variety of building types and a diversity of architectural styles.
Visit Product Website
Project
Builder
Photography
The owners of 74 McEvoy Street in Alexandria, Sydney, confronted this challenge when they set out to update a 1950s cream-brick commercial building with a contemporary look that would appeal to modern professionals. The solution came from Apex Project Management and SR House of Design who were able to revitalise the building with the Terraçade façade system on the exterior and INEX>Boards on the interior to create a refreshed look in a manner respectful of its mixed-use neighbours.
Alexandria has been undergoing a regeneration in recent decades, as the industrial area is transformed into a suburb of commercial, technology, retail and residential, while still retaining its industrial roots. "This is seen from the Green Square development to the array of old antique furniture stores and prestige car dealerships. It is very much an area of incongruous structures of old and new that don't seem to really fit together," says David Cassaniti of Apex Project Management.
74 McEvoy Street was constructed in the 1950s and had modifications made to it in the 1970s and 1980s. The original brick façade with residential-style aluminium windows was dated, worn and in need of a rejuvenation. The owners wanted an exterior that would look modern and timeless, and that wouldn't fade in colour or require ongoing maintenance. They also wanted to bring something new to the local environment. "The idea was to capture the surroundings and the colours of McEvoy Street while implementing a new style into the streetscape," says Sarah Remaili, director of SR House of Design. "We wanted people to drive by and know the building; for it to not just blend in but stand out and complement."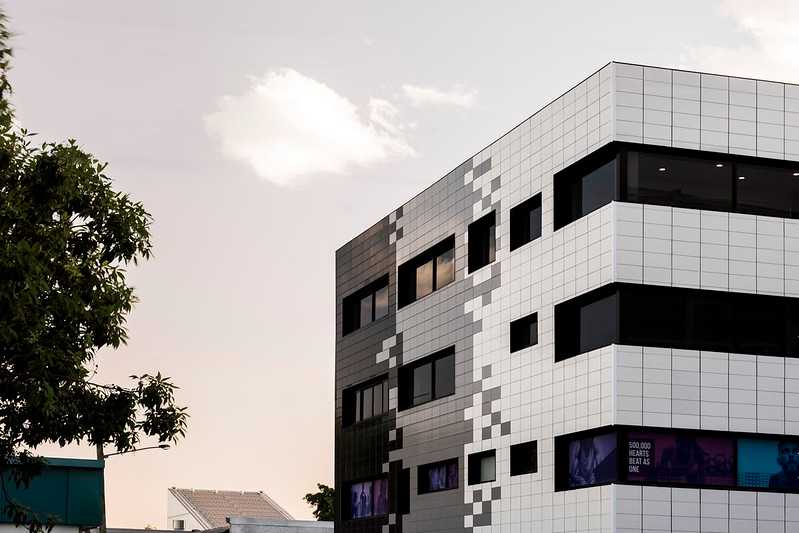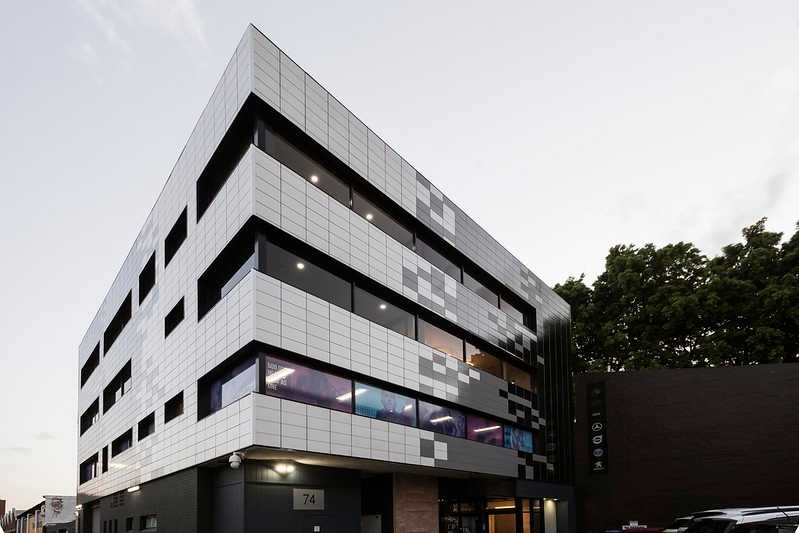 The Terraçade TN Glazed façade system fitted the criteria and the high-gloss finish held extra appeal. Sarah and David selected a grayscale scheme (Brilliant White, Grey and Black) based on the local streetscape. "Ninety per cent of the buildings have hints of black and the majority are white and grey," Sarah describes. They discussed a number of design options using the three colours until Sarah started playing with colour gradients and pixelated effects. "This was my third design option and it won everyone over," Sarah says. She worked closely with the Terraçade representative to finalise the façade design in which white tiles are placed at the corner of the building where it is most prominent on the street, while dark tiles are placed further away to create a more recessive effect.
Terraçade not only provided the desired look and durability but it overcame problems resulting from the construction of the original building. The existing building façade was not perfectly level, and Terraçade could be manipulated to accommodate discrepancies.
Despite having never worked with Terracade prior, the Apex Project Management team learned from technical resources and assistance from the Terraçade representative which resulted in the façade system being installed quickly and easily. The lightweight tiles that make up the façade are captured and supported by a purpose-designed vertical suspension rail, which is installed directly onto the structural wall.
Inside, the building has a modern industrial scheme that expresses both the industrial legacy and modern regeneration of Alexandria. White walls, glass doors and black aluminium frames provide a crisp, contemporary aesthetic complemented by matte black tapware, oak desk cubicles and an in-built fish tank. INEX Wallboards with a pre-cast concrete finish and sections of exposed brick wall hint at the area's industrial heritage. The strong and lightweight low-carbon INEX Wallboards are an environmentally friendly alternative to fibre cement and plasterboard products.
With its modern Terraçade exterior, 74 McEvoy Street is a striking new landmark in Alexandria. It is respectful of its neighbours and in keeping with the colour scheme of the streetscape, while standing out amongst the diversity of building types and architectural styles. In addition, the ceramic material and glazed finish means the building will maintain its good looks for many years to come.
"The result speaks for itself," says David. "And the owner gets great pleasure when passers-by stop and look at the building or take photos."
Terraçade
TN Glazed in Brilliant White, Grey & Black
The bold colours and lustrous finish of TN Glazed will liven up any environment.
Learn More +
Get In Touch
Build your dream home.
Learn about our products.
Learn from the best.
Join us at an event.
Please register for this event
x
Get Inspired
Stay up to date with the latest trends, products projects and more on Instagram.