An unassuming frontage gives way to a brutalist beauty in this quiet suburban town in the inner north of Adelaide.
Project
Architect
Landscape Architect
Builder
Cavallaro Building Services
Photography
Featured Products
GB Masonry Smooth in Porcelain, GB Masonry Wedge Breeze in Porcelain
While culturally rich, the suburb of Kilburn in Adelaide's inner north was lacking recent architectural influence – a matter that Rad Studio's Chris Rowlands was more than happy to rectify, alongside his enthusiastic client, Ngoc. As Director of the South Australian architectural firm that specialises in seeking meaningful outcomes through design, the renovation of this unique property was seeped in cultural significance and memory.
Rowlands worked together with the client to build upon her deep appreciation of brutalist architecture and her family's history with building, as well as bring to life the client's vision of a seamless integration of outdoor elements into the interior.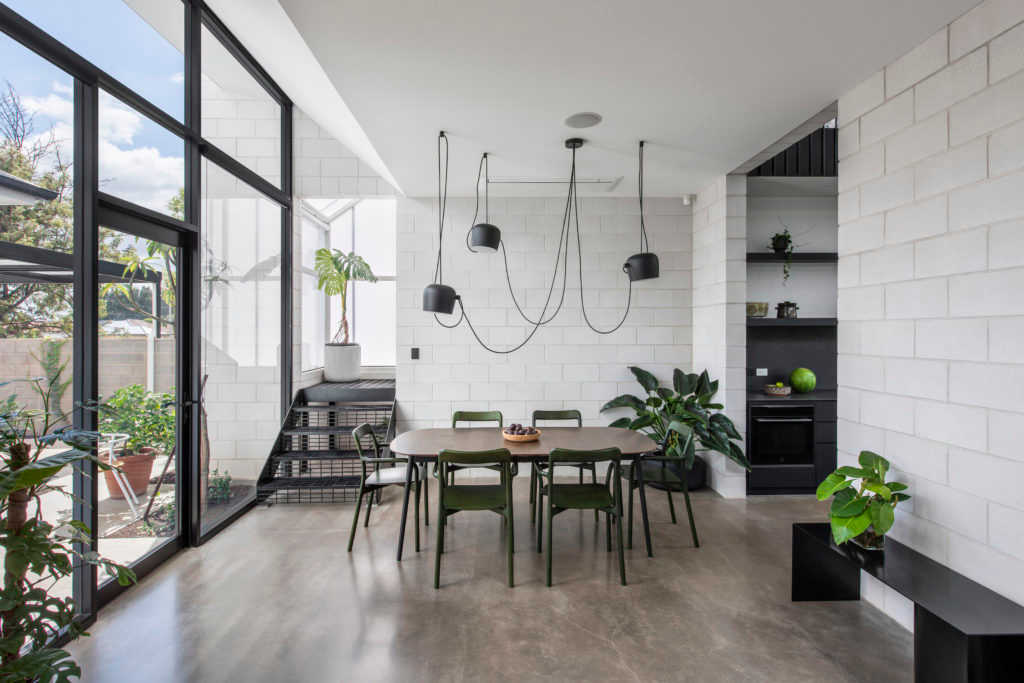 "The house acts as a gallery for the garden, where every window acts as a picture frame for the greenery beyond" says Rowlands. A feat that was informed by the client's son's "passionate green thumb" and a merging of worlds in the form of landscape and architecture.
Inspiration was drawn from brutalist buildings where robust forms are softened by nature growing through, around and onto the building, a wholistic approach that transforms the materials from harsh, to humble, as if giving in to its natural surroundings with an elegant appreciation of the symbiotic connection.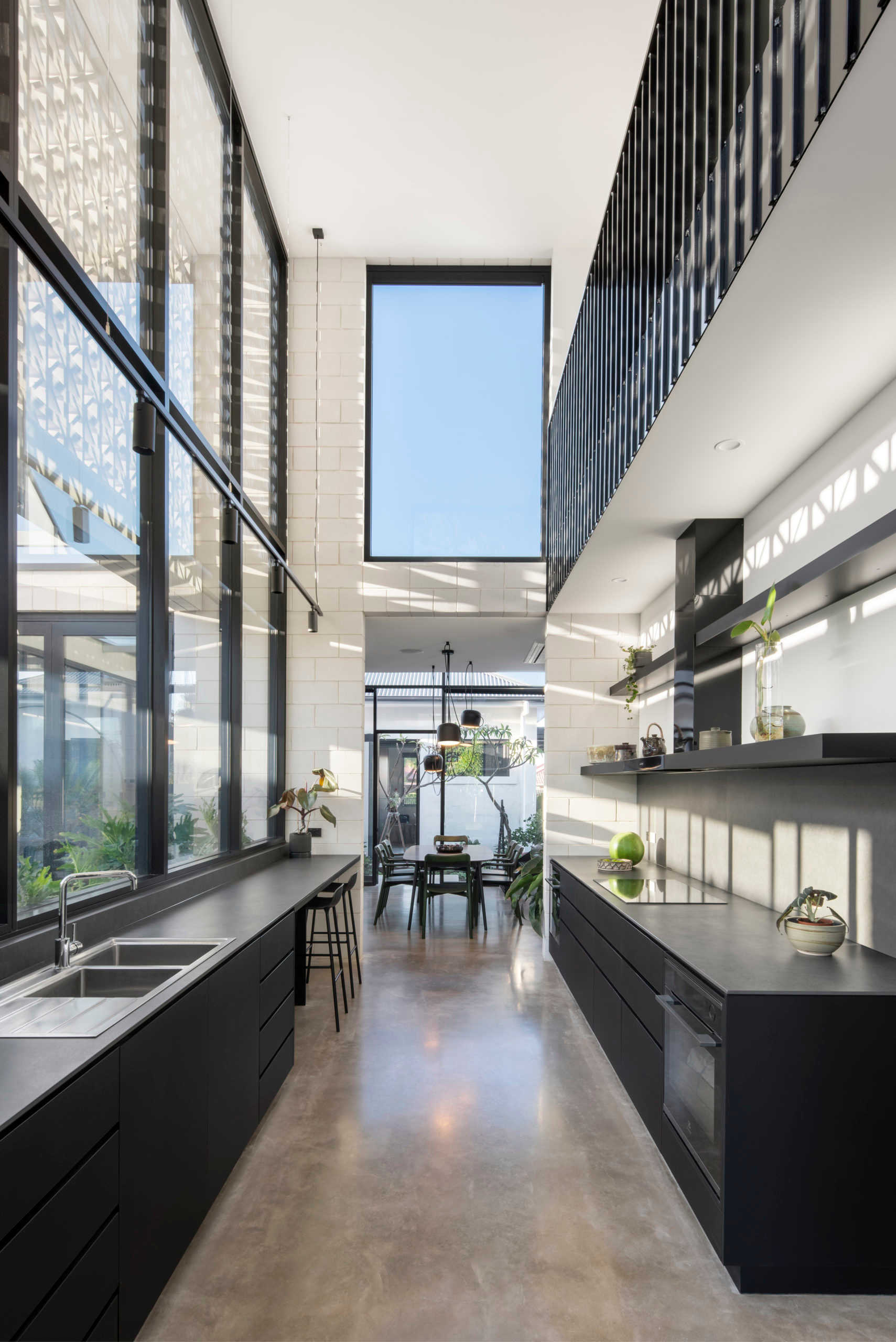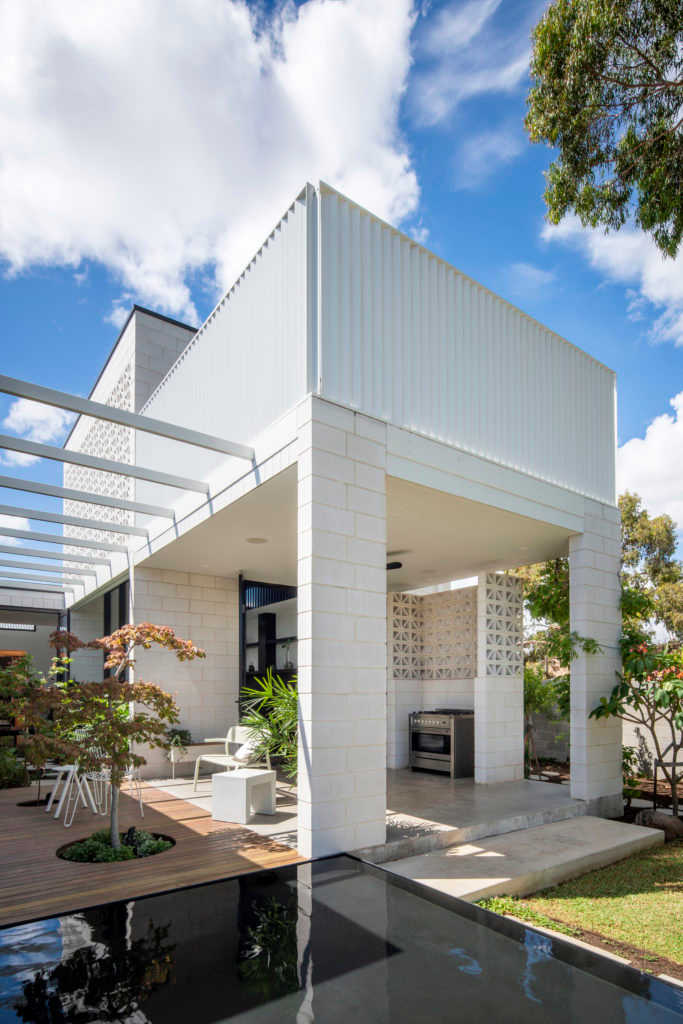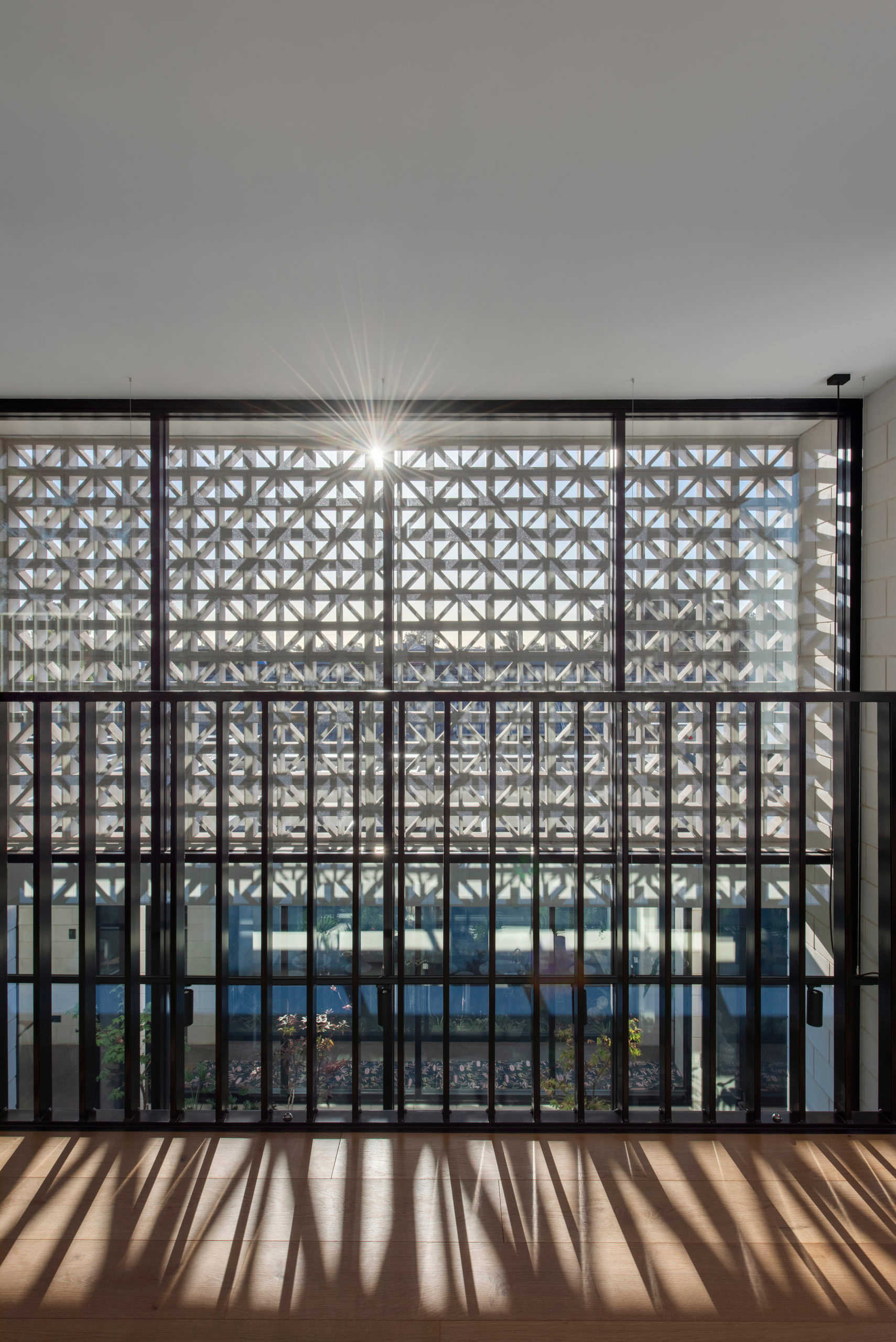 The home, a three-bedroom, two-bathroom property, is centred around the Vietnamese tradition of having a family room located on a mezzanine. In the case of Cycad House, the mezzanine looks down to the void that sits over the kitchen, and out into the central garden.
A polycarbonate thoroughfare framed by timber joins the original part of the house with the contemporary extension and allows internal plantings to thrive, opening the home with direct sightlines through to the glass structure leading to the garden. Full height western glazing to the void is controlled by the suspended Wedge Breeze Block screen from GB Masonry, throwing filtered light into the room – a spectacular effect that is both practical and decorative, transforming the home into a lantern-like structure come nightfall.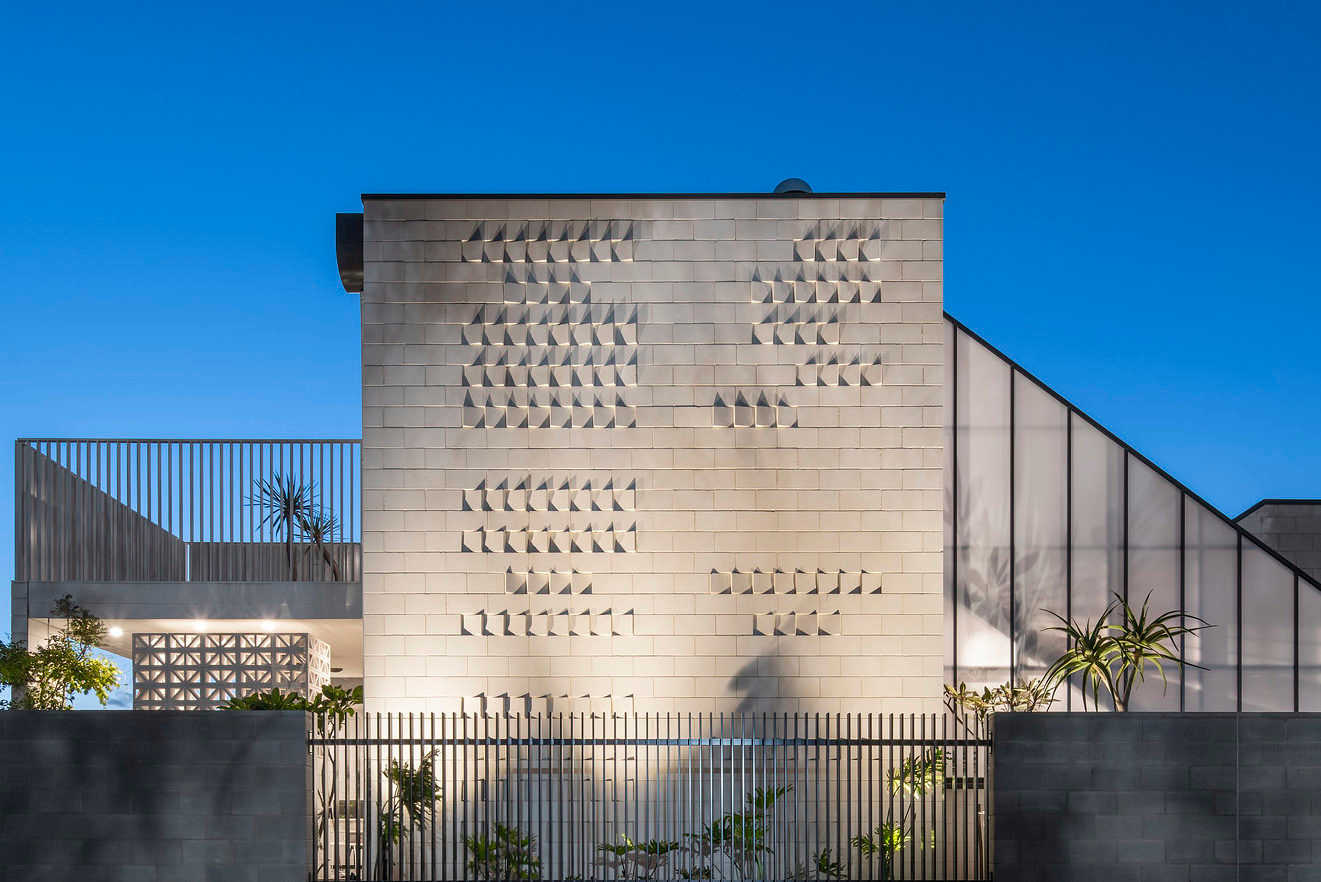 The rigid and robust material palette is grounded by GB Masonry Smooth blockwork in Porcelain, a "homogenous shell that feels really light and gives a sense of exploration," says Rowlands. "The detail and placement of such a robust material allowed us to have a heap of fun playing with shadows and filtering light, which also gives way for the vibrancy of the planting to work in harmonious contrast to the geometric strength of the home."
A truly unique experience for Rowlands and his team, Cycad House had as much effect on Rowlands as it did on the homeowner. "It was enlightening to see how genuinely passionate our client was to see her dream come to reality. I learnt a lot about what is important as an architect after working with Ngoc and it certainly changed my view on how to create a meaningful outcome."
Cycad House was recently awarded a Commendation for Residential Architecture - Houses (Alterations and Additions) as part of the Australian Institute of Architects 2022 Architecture Awards Program.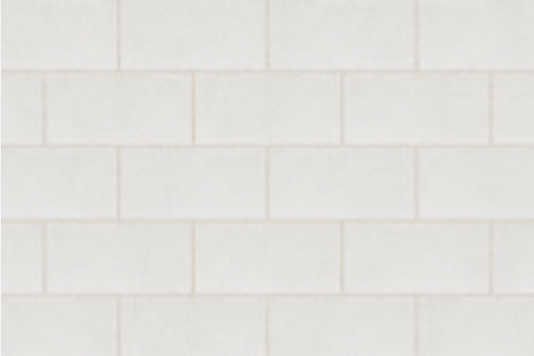 Masonry Blocks
GB Smooth in Porcelain
If tried and true is what you're after then the GB Smooth range is for you. Its smooth surface gives a soft glow to any project.
Learn More +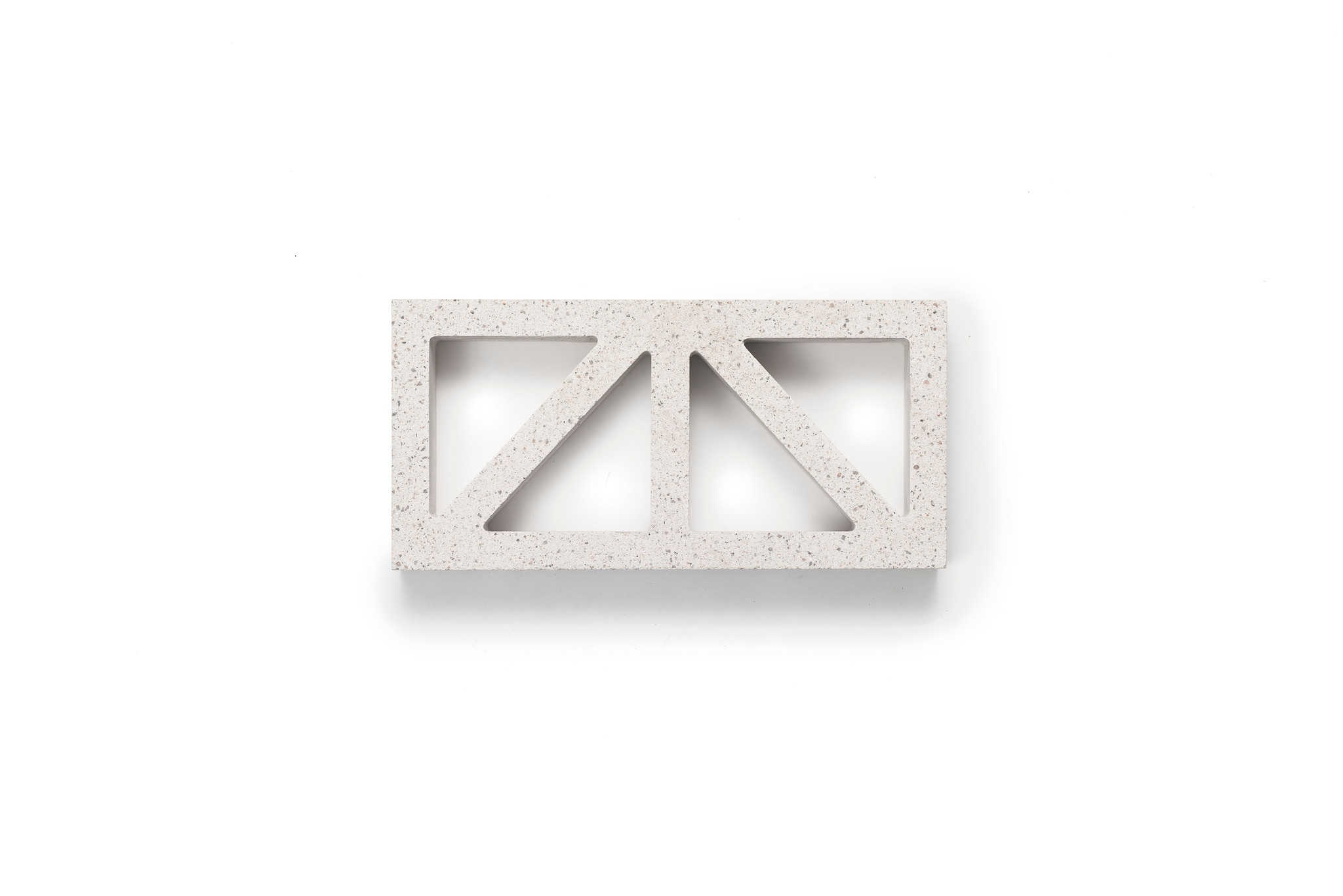 Masonry Blocks
GB Masonry Wedge Breeze in Porcelain
Contemporary style created in concrete. The Breeze Block collection is the perfect solution for those seeking a distinctive walling option that offers a unique aesthetic and ventilation.
Learn More +
Get In Touch
Build your dream home.
Learn about our products.
Learn from the best.
Join us at an event.
Please register for this event
x
Get Inspired
Stay up to date with the latest trends, products projects and more on Instagram.