It certainly isn't a small house, but neither is it a mansion, Mc or otherwise. The Fitton house is a practical, space-efficient four-bedroom family home that is stylish and hard wearing and built to meet a budget.
Visit Product Website
Project
Architect
Structural Engineer
Builder
Terraçade Installer
Photography
Product
TERRAÇADE® TN Smooth in Tanami
His projects have included London's MI6 headquarters, Frankfurt Airport, RMIT's Storey Hall, and the Republic and Eureka Towers.
He is now a principal and design director of Spowers, one of Australia's oldest architecture firms, a specialist in large commercial projects in Australia and overseas.
We caught up with Fitton just before he left for the Venice Architecture Biennale. Surprisingly, he has had little exposure to small-scale residential architecture. However he brought his commercial skills to bear on this, his third family home, saying that the experience was "amusing in its way because it condenses all the large stuff into a small box!"
It certainly isn't a small house, but neither is it a mansion, Mc or otherwise. The Fitton house is a practical, space-efficient four-bedroom family home that is stylish and hard wearing and built to meet a budget. It sits on a long, narrow site next to their previous home, about a kilometre from the beaches of Port Phillip Bay. "It has a fairly industrial kind of aesthetic, an off-the-tool kind of look," Fitton observes.
The internal layout is simple. The ground floor is primarily given over to an open plan lounge, dining area and kitchen, as well as a cloak room. To the rear is a 25 square metre studio/workshop, the domain of Annette Fitton, an industrial designer and architectural model maker "now emerging from the fug of fulltime motherhood", for her developing business making fine furniture and handcrafts.
A steel spiral staircase, finished in clear powdercoat, leads to four bedrooms, the master and a sitting room to the front, and two bathrooms. The secondary bedrooms have dormer-style windows punctuating the black steel cladding and carefully angled to maximise light while avoiding oversighting a neighbouring property.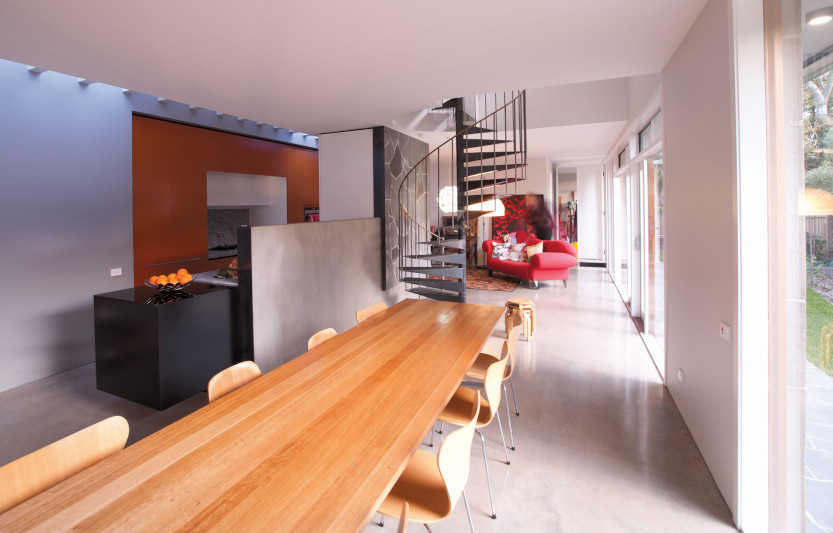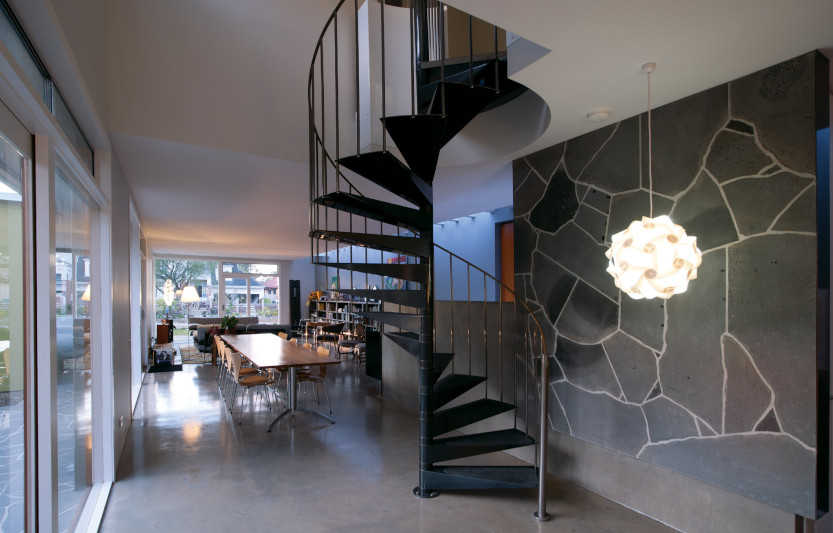 The building structure is a timber frame sitting on a polished concrete slab. The upper level floor is also timber. This entire level is offset about 1.8 metres, the overhang shading the long western elevation and allowing for a skylight along the eastern side. The ceilings are a conventional 2700 mm but appear higher thanks to the skylight and tall glass to the west and north.
Nigel Fitton may come from a commercial background but the building technology in this project is decidedly residential. "We worked very hard with the carpenter. It's a master builder kind of approach," he tells us, using conventional materials and techniques "and building a house out of them rather than trying to reinvent it from scratch."
The external design, "a modern interpretation of a variety of architectural styles", uses simple lines and geometry "and yet trying to get texture by collaging materials in a slightly playful way, which breaks the building down into its component pieces, and descales it."
A range of cladding materials is used: off-white concrete masonry laid in a vertical stack bond, black corrugated steel, fibre-cement panels ("which I must say I will never use again; the edges are a bit soft, not as crisp as I would have liked.") and Terraçade terracotta facade panels.
Terraçade features to the front of the upper level on the east and west elevations. "The real purpose of the Terraçade here was to provide us with a kind of substitute roofing material," Fitton explains. And the effect from a distance is uncannily like that of a mansard roof.
Although this is Fitton's first exposure to Terraçade, he came across a similar product while working on the Reef Island project in Bahrain. He likes that it is "a deliberate terracotta material, made of the earth. It has a kind of allusion to being heavy but it's not that heavy so you get the freedom of being able to use timber framing without all the steelwork in it to support it. So it's neat in that sense."
The Terraçade is simply detailed with no penetrations. "It has a smart, crisp look to it which I think defines the house from the street which I think is important. The ventilated facade system also allows the wall to breathe and for some of the heat to be dissipated."
Energy and resource efficiency were important in design, construction and the house's operation. "It's trying to be a low energy house without going over the top." Thanks to northerly orientation, shading, thermal mass, insulation and ventilation, the building uses little energy. There is no air-conditioning on the lower level and winter heating is via an underfloor hydronic system. There are also low-energy light fixtures and two water tanks totalling 16,000 litres.
What lessons were learned from this project? "If I built another house I probably would not build it with a timber frame. I'd possibly build it in masonry and precast or something like that." And would Nigel Fitton use Terraçade again? "Yes, I would, I'd use it again, in fact I like the product a lot. There's a lot to be said for Terraçade."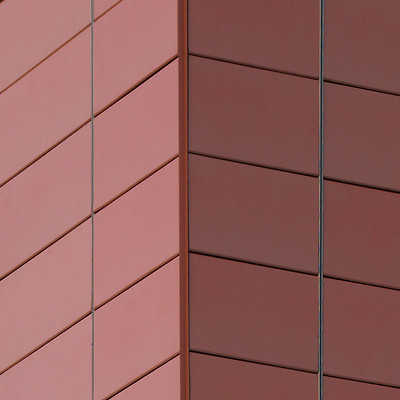 TERRAÇADE®
TERRAÇADE® TN Smooth in Tanami
TN Smooth is the harmony of nature of design, its earthy Australian colours contrasting its matte finishes.
View Product
Get In Touch
Build your dream home.
Learn about our products.
Learn from the best.
Join us at an event.
Please register for this event
x
Get Inspired
Stay up to date with the latest trends, products projects and more on Instagram.