A vibrant hub of commerce, technology, innovation, entertainment and inner city living is currently being developed in the heart of The Sunshine Coasts' Maroochydore.
The Maroochydore City Centre will be instrumental in strengthening the region's existing business offering, creating a vibrant business district and city centre that will create significant opportunities for economic development and employment.
With its world- class innovative design developed by MC3, a collaboration between architecture firms Vee Design and Tract Consultants, the city centre is set to create a cleaner, greener and more liveable city centre.
Located just one hour from the Queensland capital and 10 minutes from the Sunshine Coast International Airport, the Maroochydore City Centre is set to become the epicentre of the Sunshine Coast. The centre is unparalleled in its commercial and business offering, featuring exclusive retail, prime commercial office space, fine dining, entertainment facilities, new waterways, recreational spaces, a premium hotel, and an entertainment, convention and exhibition centre.
This centre is a response to a forecast that the Sunshine Coast's population will grow to more than 470,000 by 2036, which will be the second-fastest growth rate (2.1%) of all Queensland sub-state regions between 2011 and 2036. The centre is also set to support the growing tourism visitation of the Sunshine Coast, which is one of the fastest-growing port destinations in Australia, according to Tourism Research Australia.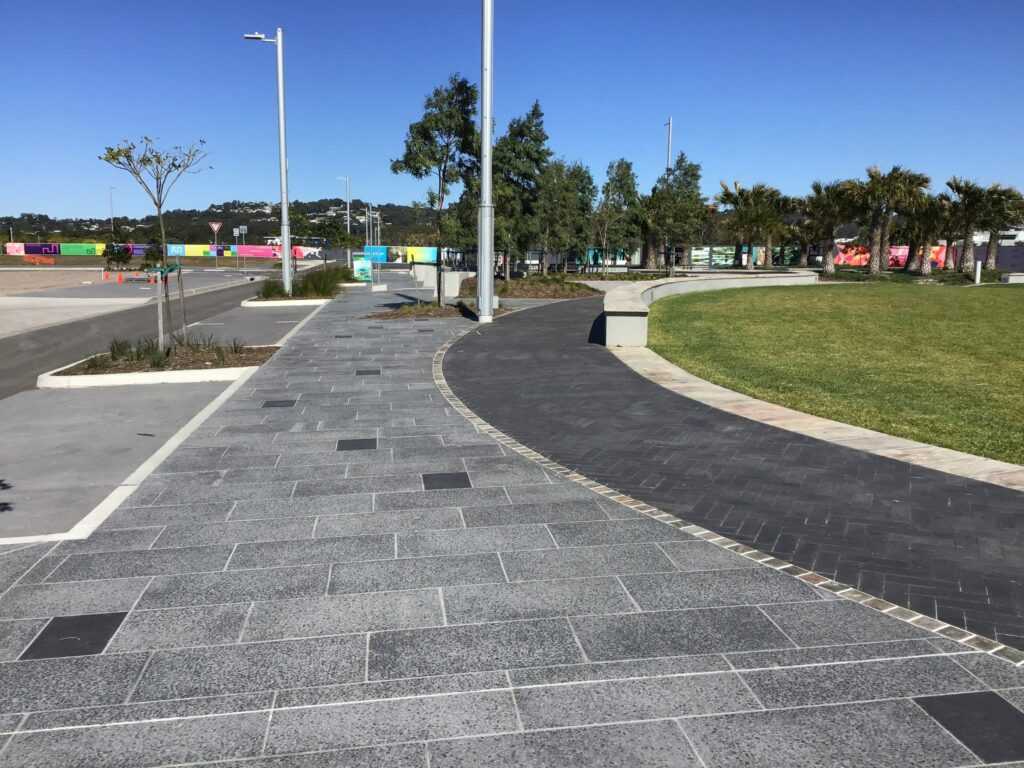 Planning of the Maroochydore City Centre commenced in April 2014, and Stage 1A of the build was completed in 2019. During early discussions, the MC3 architects decided on a greater scope of products that would bring interest and diversity into the build.
On deciding on the best material for the landscaping of this project, M3C worked closely with the team at UrbanStone to consider all their options. Nick Parry, UrbanStone QLD State Commercial Sales Manager, says 'the council requirement for this project was for a high-end pavement treatment that had to be Australian produced, or sourced products with a 20-year lifespan and supply history, which UrbanStone certainly does.'
After providing information on historical projects using UrbanStone that have withstood the test of time, it was decided that UrbanStone pavers would be the perfect material for this application. The team decided on a selection of hardscape materials for the project, which was inspired by the urban setting.
"We wanted to establish a palette of materials that would suit this environment, as well as being 'urban' in appearance."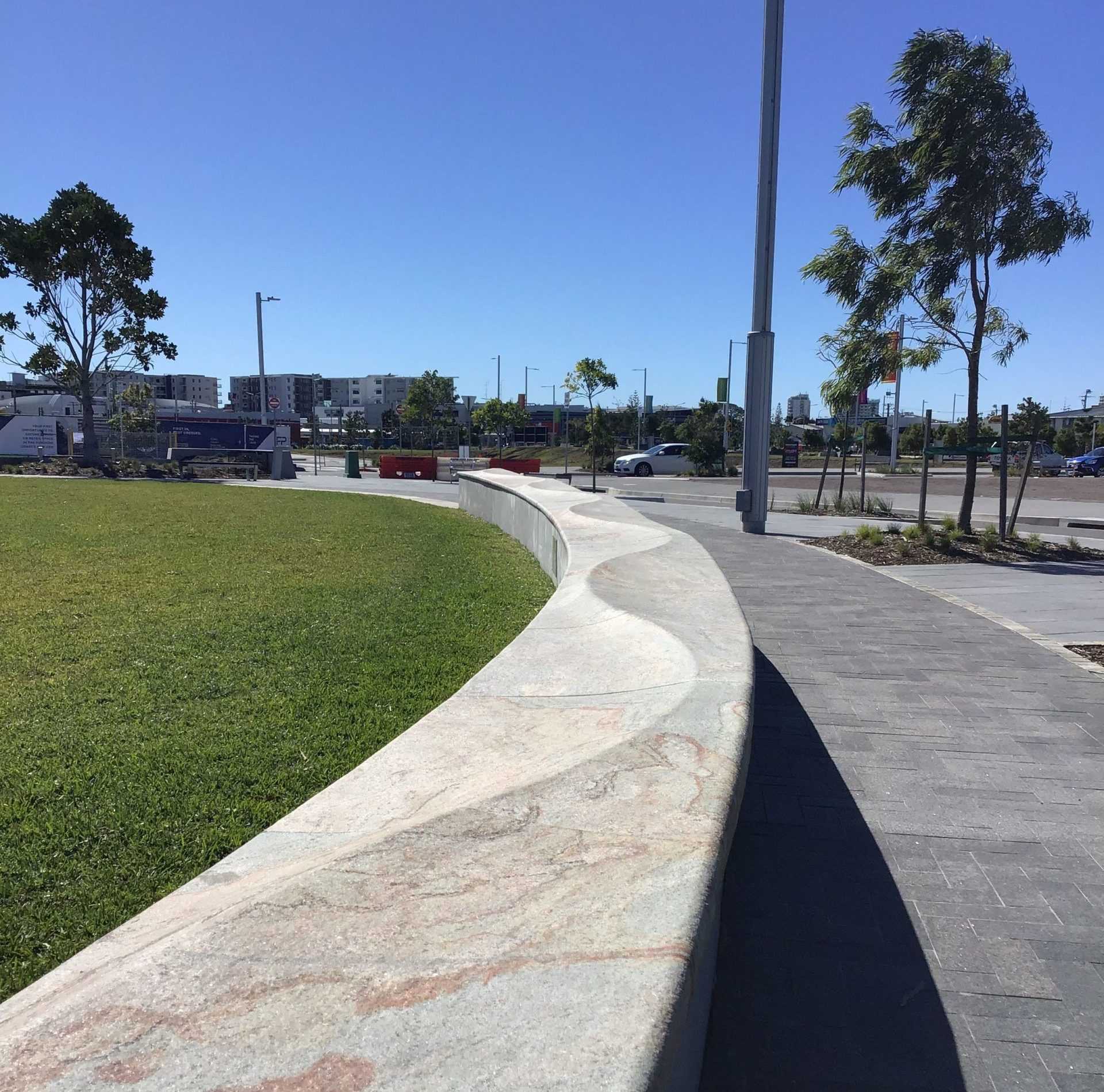 "We wanted to establish a palette of materials that would suit this environment, as well as being 'urban' in appearance."
They selected UrbanStone engineered concrete pavers in a bespoke colour aptly named 'Maroochydore', which form the backbone of key nodes throughout streetscapes of the City Centre. Trish Menzies, Director of Vee Design Sunshine Coast, says 'We wanted to establish a palette of materials that would suit this environment, as well as being 'urban' in appearance. We did a lot of research looking at other Australian (and International) cities to see what colours and materials had been adopted in the urban cityscapes, and we selected UrbanStone pavers for the urban feel it projects, and for the peace of mind that it wouldn't blemish and show marks as much as a lighter colour.'
Subtle accents of exfoliated Austral Brick granite were included as feature inserts in the streetscape and in the urban square, and were also used throughout the urban realm to knit the pavements together. 'The layering of urban formal spaces with concrete pavements creates an excellence in materiality that complements the furniture palette, sculptural steel shelter structures and off-form concrete seat and planter structures throughout the urban realm,' says UrbanStone QLD State Commercial Sales Manager, Nick Parry.
'This language of materiality establishes a distinctive landscape character that derives from an intimate response to the Sunshine Coast, while accommodating the functional urban setting and the range of spatial uses that arise from the future role of this significant project, as Maroochydore's new city centre,' he says.
The project design briefly went on hold in 2016 when Trish began to explore the idea of a hand carved feature wall. A 46 m curved seat wall was designed for the Federation Square Park, which separated the event lawn space from the path that winds through the park. 'Late in the documentation phase we decided to 'up the ante' on this and make a really interesting design feature out of it, something out of the ordinary, a bespoke feature and not just a long curved wall,' says Trish. 'The idea of a shaped seat capping that can be used from either side was inspired by one in Leicester Square in London, as well as referencing the coastal environment of beach colours and wave shaping'.
Trish and her team worked with UrbanStone to bring this idea to reality, deciding on grey pavements with Juparana stone as a relief. 'Using Juparana stone as a subtle, contemporary design element was the obvious choice for this wall cap to 'punch' out a contrast colour that caught the eye,' Trish said. The final product was a unique design feature, which is just as striking as it is functional.
Get In Touch
Build your dream home.
Learn about our products.
Learn from the best.
Join us at an event.
Please register for this event
x
Get Inspired
Stay up to date with the latest trends, products projects and more on Instagram.