A compassionate design approach fostered the rejuvenation of this heritage community space on Sydney's iconic Bondi Beach.
Project
Architecture
Tonkin Zulaikha Greer Architects (TZG)
Contractor
Client
Project Team
Peter Tonkin, Wolfgang Ripberger, Mona Parvaresh, Julie Mackenzie, Challis Smedley
Photography
Featured Product
Bristile Roofing La Escandella Curvado Glazed⁠
The cultural significance of Bondi Beach's iconic Bondi Pavilion warranted decades of setbacks in its proposed restoration. Though striking the balance of revitalising the weary structural elements while honouring the historic site was a colossal feat, the renewed structure by Tonkin Zulaikha Greer (TZG) Architects admirably encompasses Bondi's vibrant community.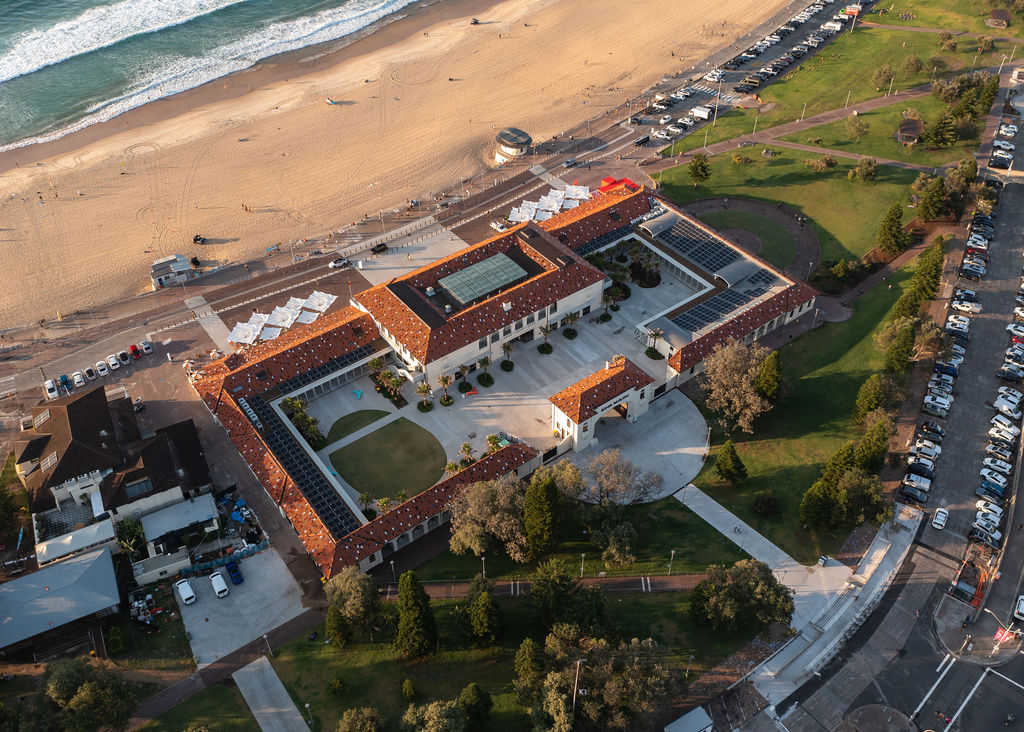 Now a modern multi-purpose community and cultural centre, every aspect of the 1920s building fabric was upgraded. Working within an unstable structural framework, each original brick needed to be stitched together with helical ties to reassert the space's integrity within an occasionally precarious coastal environment.
In-depth stakeholder workshops allowed TZG Architects to preserve the building's unique cultural characteristics, including an Aboriginal floor mosaic created by Northeast Arnhem Land artist Terry Yumbulul and local artists Lloyd Kelemen and Justin Robson in 1983.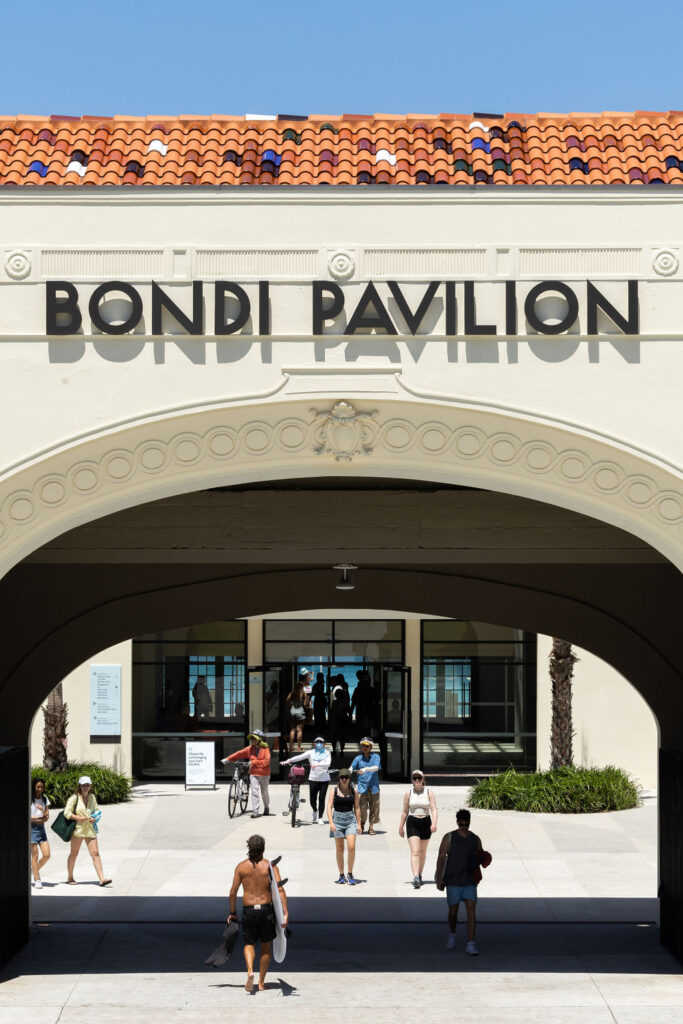 Open air and increased ventilation were also at the forefront of the renovation. Creating efficient and direct access and flow from Campbell Parade to Bondi Beach was essential in shaping the pavilion's grand entrance, accompanied by east and west connections to expand the space further.
Overhead, a new glass roof cascades across trunk-like concrete columns in the old atrium, filtering in the northern sunlight through parallel timber beams. TZG Architects revamped the old amphitheatre into the Garu and Guya Courtyards (the local Dharawal name for northern and southern), holding up to 2000 people to create opportunities for music festivals, theatre and comedy acts. Additionally, the pavilion now holds a plethora of community-nurturing spaces, including an art gallery, the Bondi Story room, a pottery studio and a new hospitality destination designed by Stella Collective, Promenade Bondi Beach.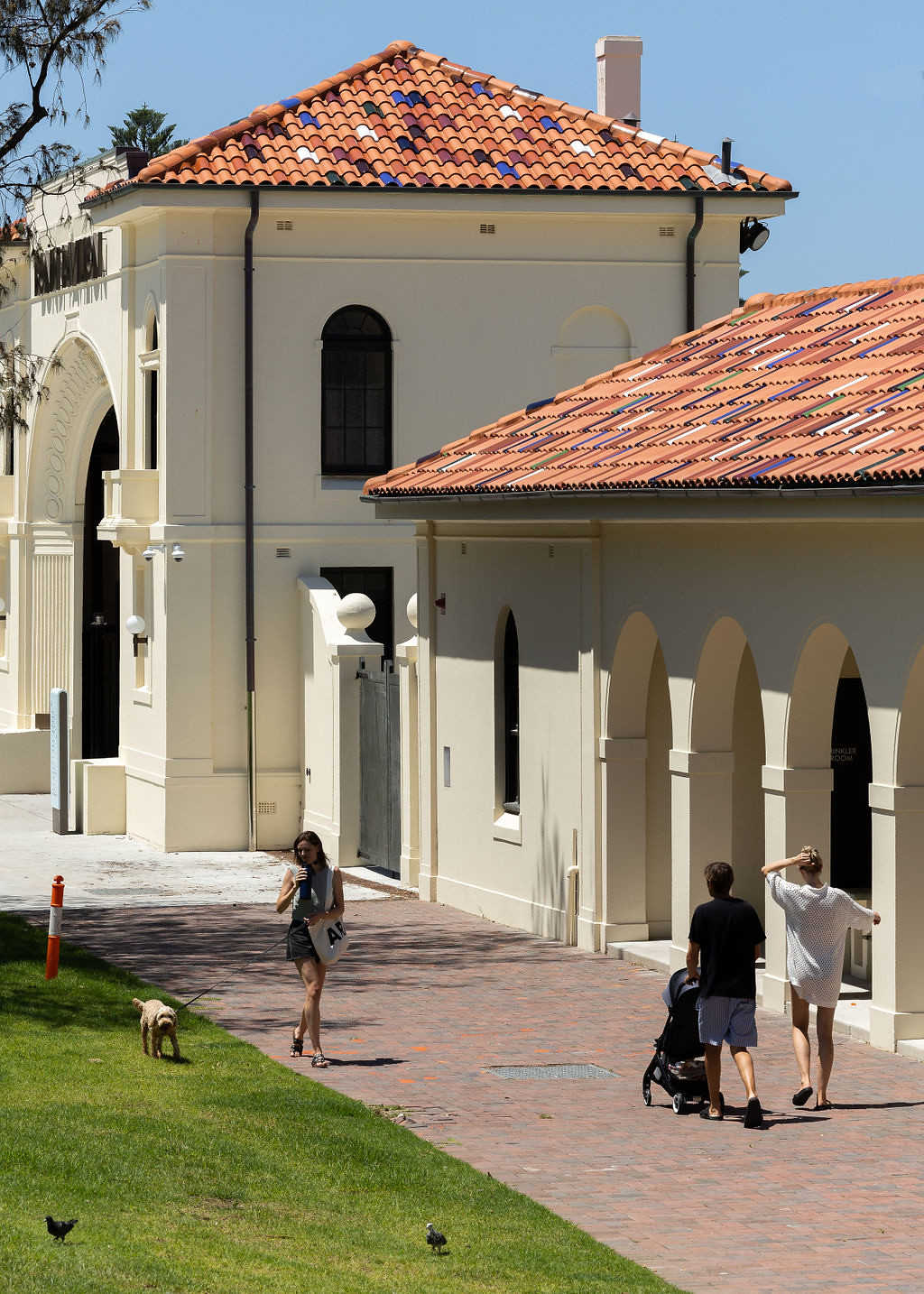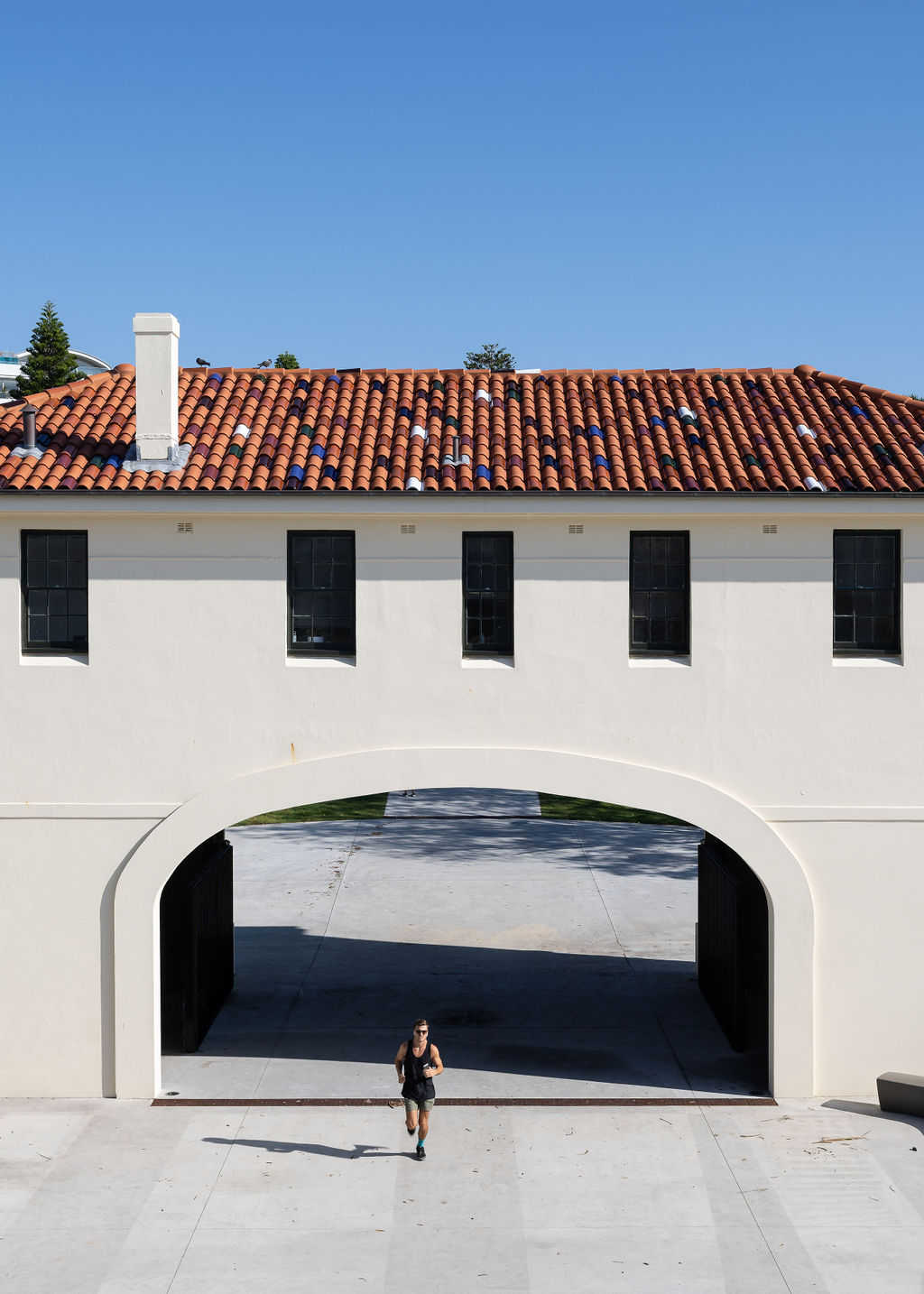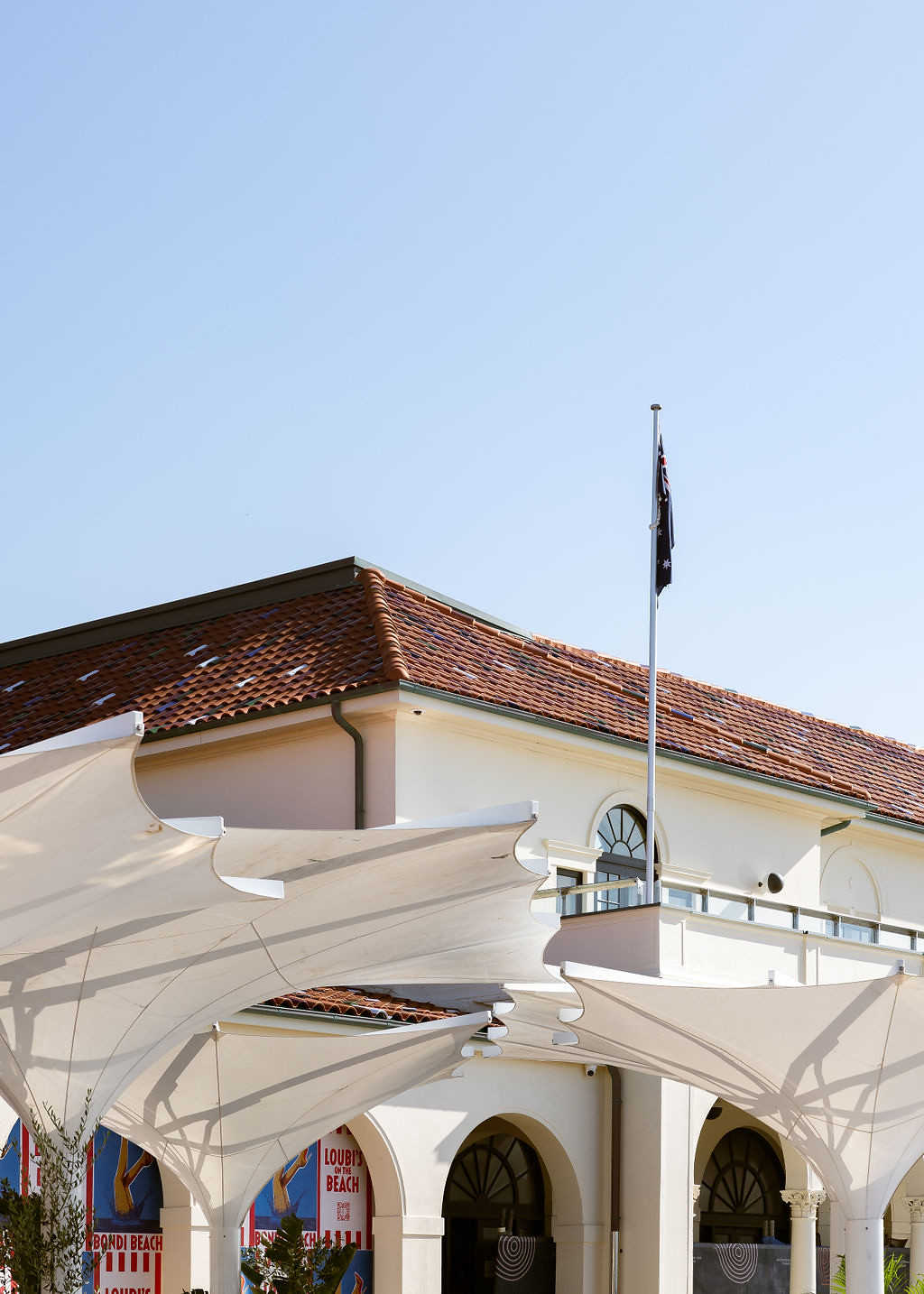 In one of the restoration's most eye-catching features, playful bursts of colour pop amongst the terracotta roofing, using approximately 33,000 Bristile Roofing La Escandella ceramic roof tiles to enhance dimension and visual interest. The glazed Curvado recreates the Cordova pattern of the original roofing and surrounding buildings, comprised of extensive research to replicate accurately. The earthy, warm tones of the rejuvenated roof structure create a captivating contrast with the building's white exterior and coastal-hued context.
Hoping to extend the lifetime of the beachside community centre, it was essential for all renovations to foster sustainability. Adhering to the five-star sustainability rating, 90 per cent of the construction waste was recycled, using only eco-friendly paints and sealers in the building process. Across the standout rooftop are 217 solar panels that support over 70 per cent of the building's energy usage.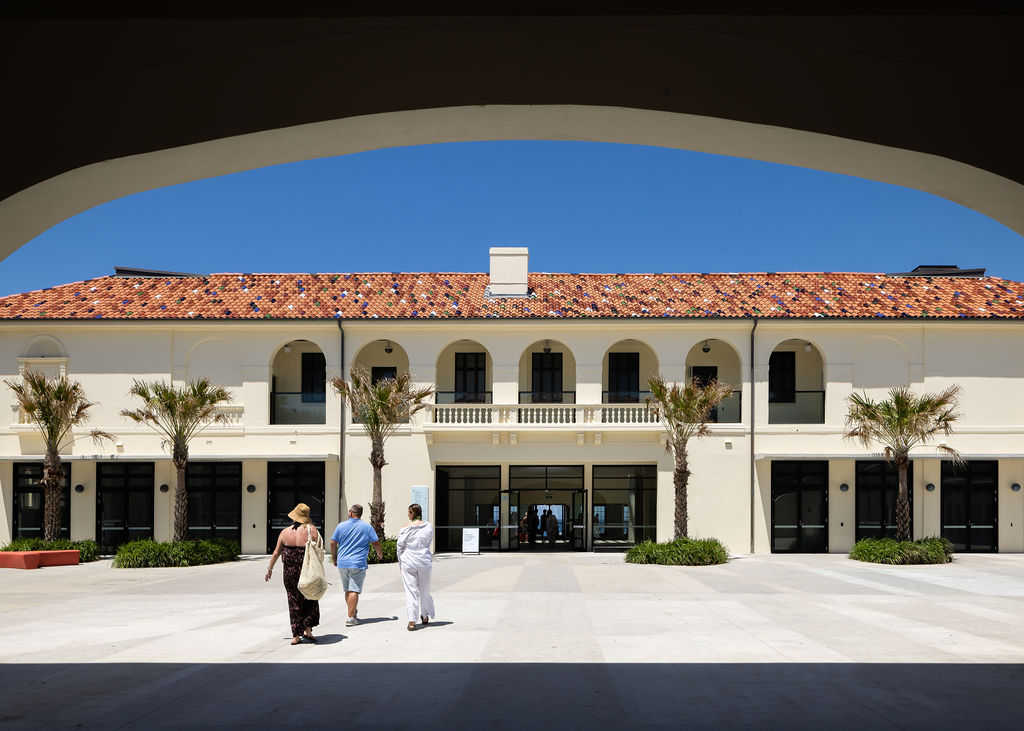 In an architectural homage to the heritage significance of this unique coastal destination, TZG Architects delivered a vibrant, multi-faceted space that will be enjoyed by both locals and visitors for many decades to come.
Playful bursts of colour pop amongst the terracotta roofing, using approximately 33,000 Bristile Roofing La Escandella ceramic roof tiles to enhance dimension and visual interest.
Get In Touch
Build your dream home.
Learn about our products.
Learn from the best.
Join us at an event.
Please register for this event
x
Get Inspired
Stay up to date with the latest trends, products projects and more on Instagram.