There is a strong movement toward curved shapes in interior design, which is being embraced by architects and designers from around the globe.
Organic curves are reinventing traditional building practices synonymous with clean lines, instead showcasing the softer, more organic shape of curves.This ambitious style of architecture has challenged traditional building methods, and led to a reinvigoration of building materials that facilitate more movement and creativity.
The Bowral Bricks Special Shapes range offers exciting new possibilities for architectural excellence through design, detail and form, adding distinctive architectural features to any project. Unusual and stylish, they evoke a bygone era of artisan bricklayers constructing heritage marvels.In this article, we'll showcase three of our favourite projects that swapped angles for arches, and clean lines for curves, pioneering a whole new wave of architectural masterpieces.
Tiger Prawn by WOWOWA
If you were to imagine a building that resembled a tiger prawn, what would you envisage? For Melbourne architects WOWOWA, this was the inspiration for a quirky suburban home in Victoria's Fitzroy North.Taking notes from the grey colour of seafood, WOWOWA developed an under-the-sea theme with a castle-like scalloped brick façade that rolls around the corner and peels away to create an interesting side angle.
'Victorian terraces are really stripy horizontally and we wanted to create a similar ornamentation, but with a vertical perspective,' says Monique Woodward, co-director of WOWOWA. 'The clients love grey, and raw tiger prawns are grey and green, so that became the colour theme for the outside.'The use of brick was integral to achieving the unique zig-zag pattern on the rear façade, while their weightiness ensures cohesion with the heritage façade at the front of the home. This playful home showcases how, with smart design and creativity, the humble brick can be transformed into the extraordinary.
The best of the best: Curved brick designs
00/00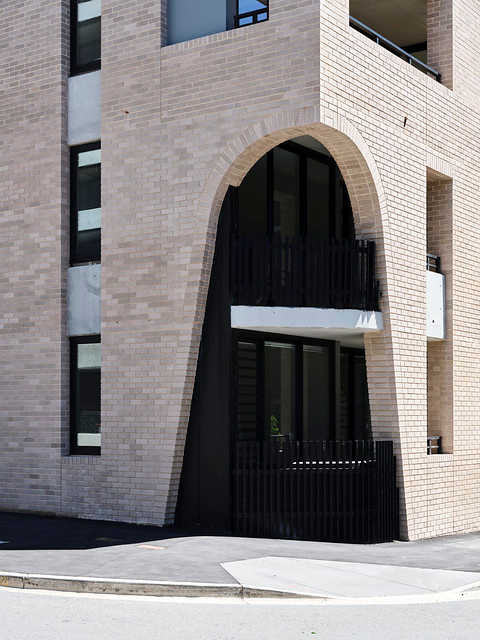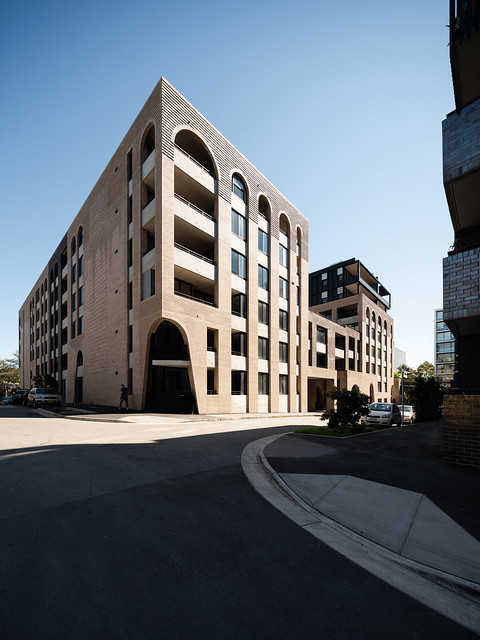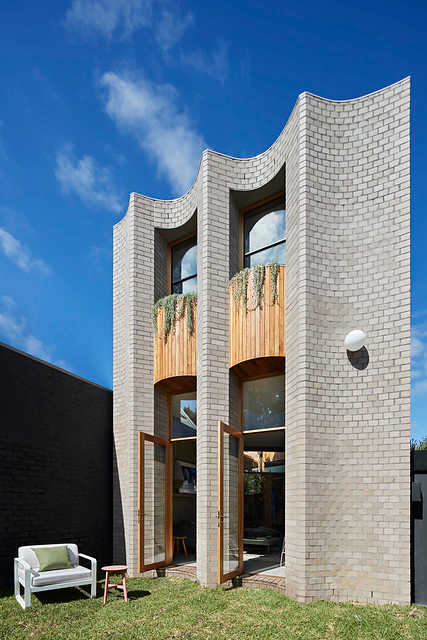 West-End Glebe by Turner Studio
Connecting the past and the present, West-End Glebe is a premium residential development that uses intricate brickwork to reference the site's history as a brickmaking factory. Designed by Turner Studio, the eight-story Foundry and seven-story Arthouse were designed using brickwork, arches, metalwork and corbelling inspired by both the warehouses of neighbouring Ultimo and the terrace houses in Glebe.
Stephen Cox, Director at Turner Studio says, 'The building doesn't seek to replicate the past but rather works with the character of the local architecture to make something new.'Bricks played an important role in the project, where Bowral Bricks in Simmental Silver were used to create a light façade, while the dry-pressed brick were used for detailing. The classic brickwork with the impressive warehouse-inspired asymmetric arches is common to both buildings, paying homage to the site's brickmaking past.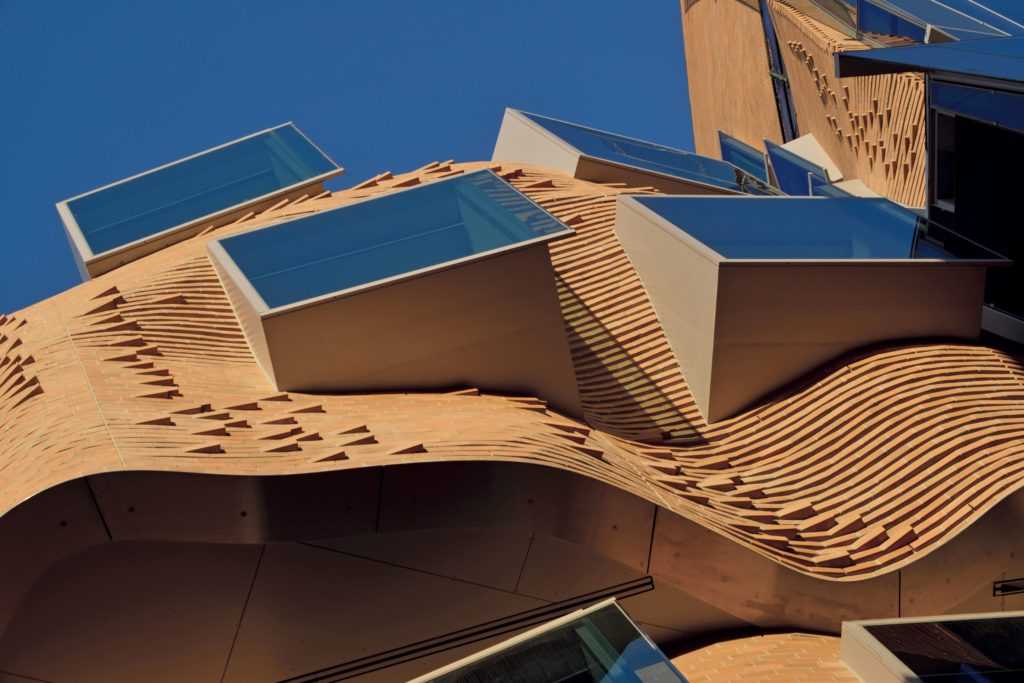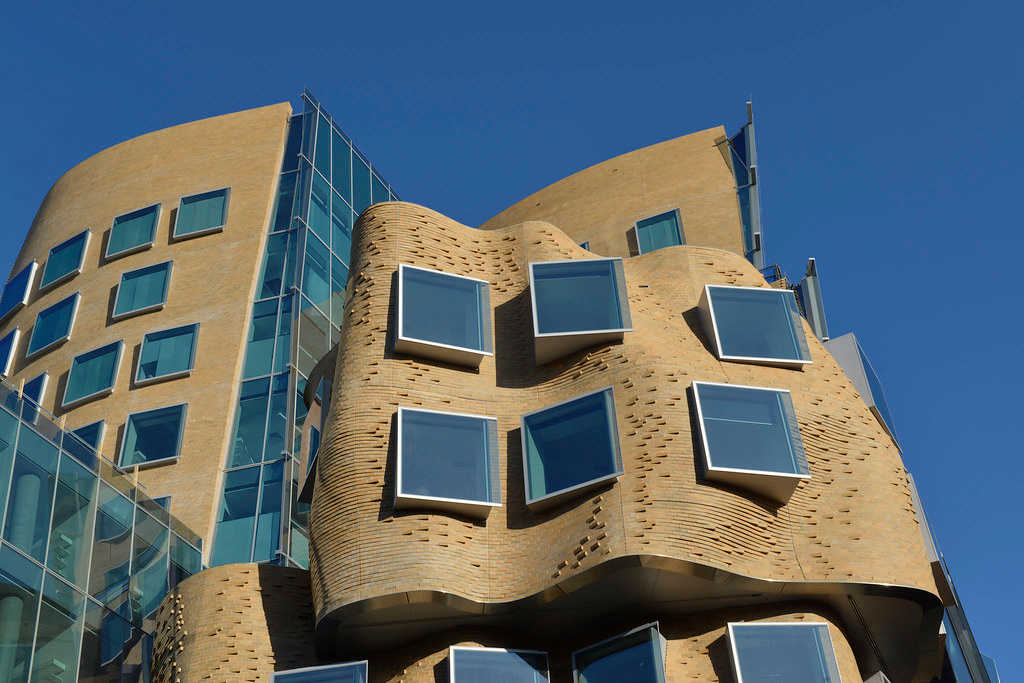 UTS Dr Chau Chak Wing Building by Frank Gehry
The Dr Chau Chak Wing building for the Business School of the University of Technology Sydney is the first building world-renowned architect Frank Gehry created on Australian soil. After a design process expanding over ten years, Frank Gehry's masterpiece finally came to life.This incredible building was created from 320,000 custom-made Bowral Bricks, which were designed to complement the complex textured design of the building's unique façade, which is inspired by the structure of a tree house.
Described by the architect as 'a growing learning organism with many branches of thought, some robust and some ephemeral and delicate,' the building is unlike any building you've seen before. Lovingly referred to by many as 'the paper bag building', the building's curvy structure bends and curves so intricately, it's hard to believe it was built with brick.
This unique design features two aesthetically distinct external facades; one of which is comprised of undulating brick, referencing the sandstone and the dignity of Sydney's urban brick heritage, and the other which is characterised by the large, angular sheets of glass that mirror the image of surrounding buildings. The innovative building demonstrates how brick can be used in an unconventional way to create a façade that appears to have a lot of movement, changing common perceptions of the humble brick.
Get In Touch
Build your dream home.
Learn about our products.
Learn from the best.
Join us at an event.
Please register for this event
x
Get Inspired
Stay up to date with the latest trends, products projects and more on Instagram.