Establishing the practice in 2002, Andrew Maynard is renowned for creating resilient, robust and highly sustainable spaces that are designed to meet the challenges of the climate crisis. In our chat Andrew discussed his approach to sustainability, and how he cultivates spaces that spark a social connection.
How and when did you realise your passion for design? How did you get your start in the industry?
I was one of those nerdy little kids who just loved drawing. I was always drawing and imagining different worlds and that was very much encouraged by my mother - she also paints and creates. I think she really steered me towards architecture, an art that is actually applied - it is an art that affects everybody. Growing up in Tasmania, I can remember a particular moment when I visited a little house as a small child and I realised that someone had really considered the home. It was the first time that I realised that buildings are not just there, someone has to deliberately think about how they're put together and it was obvious that some were more considered compared to others. From a very young age I knew I wanted to be an architect - there was no debate, it was always something I knew I was going to do.
Where do you take inspiration from, and how does this manifest in your designs?
I've always, as I did when I was a kid, enjoyed referencing pop culture - I was talking to a client, and her first description of the house she wants was she wants was a Dr Seuss house, and I was like sorry what, like we have to work together. We then started talking about different cinema and I spoke to her about the City of Lost Children, which is a French movie from I think 1996 which has got all these sets, it's very steam-punk so that's where I draw a lot of my personal inspiration from in terms of work.
So I have my own personal inspiration which is pop culture and when I was studying architecture I skateboarded a lot. I really liked the way that skateboarders question the built environment, it's not a bench or steps, they're all sort of forms that you reinvent creatively, so that's my inspiration. In terms of the work that's on the website, the work that I do for other people, I really get inspired by my clients and I'm not just saying that - if you look at our website it's very eclectic there's not just one approach. That's because I love the conversations, I will never rush into a project. I'll never first meet a client and look at a site and say this is my vision. I actually really want to understand the site, get a survey done, visit it, photograph it, understand the nuance of the site but then I also really want to quiz and get to know the client. It may sound silly but why have you asked for 3 bedrooms, 2 bathrooms, tell me about your life and how you live now and in the future and out of those discussions everybody's different, and I love pursuing my clients' interests and that always leads to a different result. I don't have any clients that grab the pencil and start drawing but it's always they're interested in a certain material or type of space. I love pursuing that, it means every project is different for me, instead of just churning out the same thing.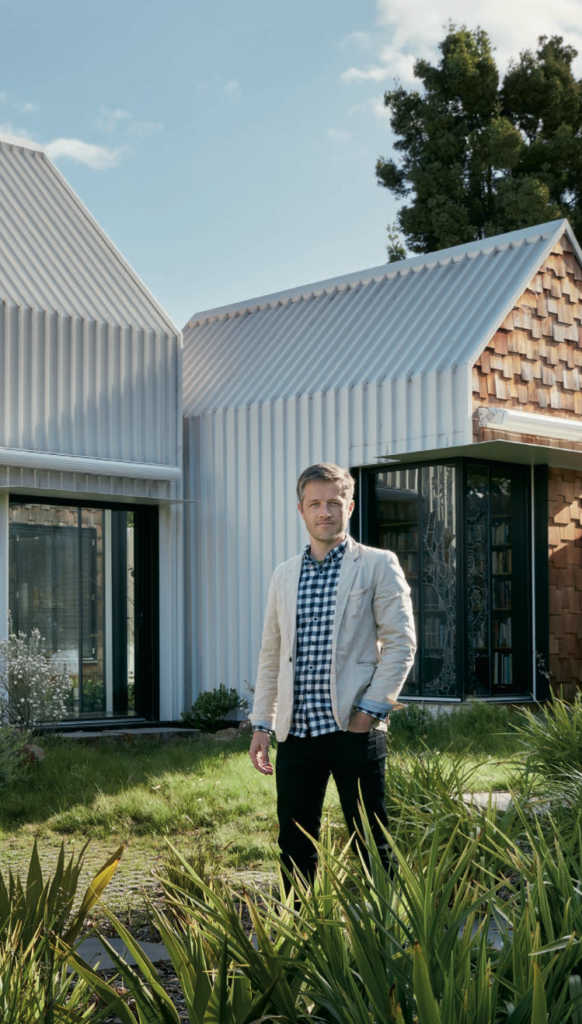 Can you tell us about a favourite project you've worked on?
The building that I'm sitting in right now I'm so proud of. So this is Terrace House, this is actually 20 apartments and 3 shops that Mark Austin and I were the developers of. This has taken us 7 years and it's fossil fuel free, 8.1 stars energy rating, 70 bike parks, bit more separation of the structure, it's an incredibly sustainable building, most of the residents I've known for years. We sort of had built the community first and then built the building and we've only just finished and photographed that. It's got these beautiful external blinds - developers are building the huge towers full of apartments and just glass and they just get so hot - this is air conditioning free because of these beautiful colourful blinds on the outside of the building. This has been such a joy to help create this community, some of my best mates live over here too so I'm always over here. You don't get to spend that much time in the finished building. 
And the other one talking of favourites that I have to mention as well where I did get to spend 3 nights is St Andrews Beach House which is this timber cylinder at St Andrews Beach down on the Mornington Peninsula. That one is such a joy as holiday homes and shacks often are, it's just distilled just down to what you need, it's so small but so connected to the landscape, it's huge spaces that can be divided off by curtains so you can have other people staying over if you want or also have it huge and really opened up. That's definitely one of my other favourites as well, which is at the complete other end of the scale to the Terrace House.
What is your career highlight so far?
There's been a lot. I guess there's a bit of a bookend, the Canberra Medallion was pretty great getting there. Last year I became a fellow of the Institute of Architects, so the architects that are recognised for their contribution to architecture, so to become a fellow was wonderful. Also the other highlight which was right at the start of my career was there was an exhibition in New York called Young Guns and I think it was 2004? 2005? And it was an exhibition in New York, they selected just some of my really early work and asked me to come over to New York for the exhibition and book launch. That really set me up but I do look at that and think that was not only the moment that really launched me but that was great in terms of confidence building because any creative person really does have a lot of doubt and so that was really great to sort of say to me no, no, no, you're on the right path and you've got the right skills, keep going. I think if it wasn't for that exhibition in New York maybe I would've got back and continued working for someone else, but it really did give me the confidence to say you've got the right ingredients, see where you could go.
Terracotta House was recently awarded Inside Out X Brickworks 'Home of the Year' for 2021, can you tell us a little bit about that project and the approach to design?
It was such an interesting brief and more of multigenerational housing, so parents and adult children and then them having children all living in one block is so interesting. It means that sort of quite often you get one-dimensional briefs where it's like give me 3 bedrooms, 2 bathrooms, living space and it's just that there's no real nuance, whereas this is so interesting. The client, Belinda owns the block and they're wanting to help her son's family establish themselves. When you get a brief like that it's intimidating because you think this is a brief that you dream of, that you really want as a designer. Belinda was really wanting the garden to be the dominant part of that home, so it was really great being pushed to keep everything economic in size, 'give me just what I need and nothing more' was her brief - and then because it was all about the garden and she just kept pointing towards the beautiful terracotta pots, that was quite literally the decision to build it out of just earthy materials. The bricks and roof tiles are just materials that we dig up and apply a bit of heat to and then assemble. Even though it's a beautiful, contemporary, new building it's something that's got sort of a wisdom and an age to it because of the materials that she and I were interested in. 
"From a very young age I knew I wanted to be an architect - there was no debate, it was always something I knew I was going to do."
"From a very young age I knew I wanted to be an architect - there was no debate, it was always something I knew I was going to do."
Get In Touch
Build your dream home.
Learn about our products.
Learn from the best.
Join us at an event.
Please register for this event
x
Get Inspired
Stay up to date with the latest trends, products projects and more on Instagram.