Infrastructure Thought Leaders Series: Precast Construction with Double Wall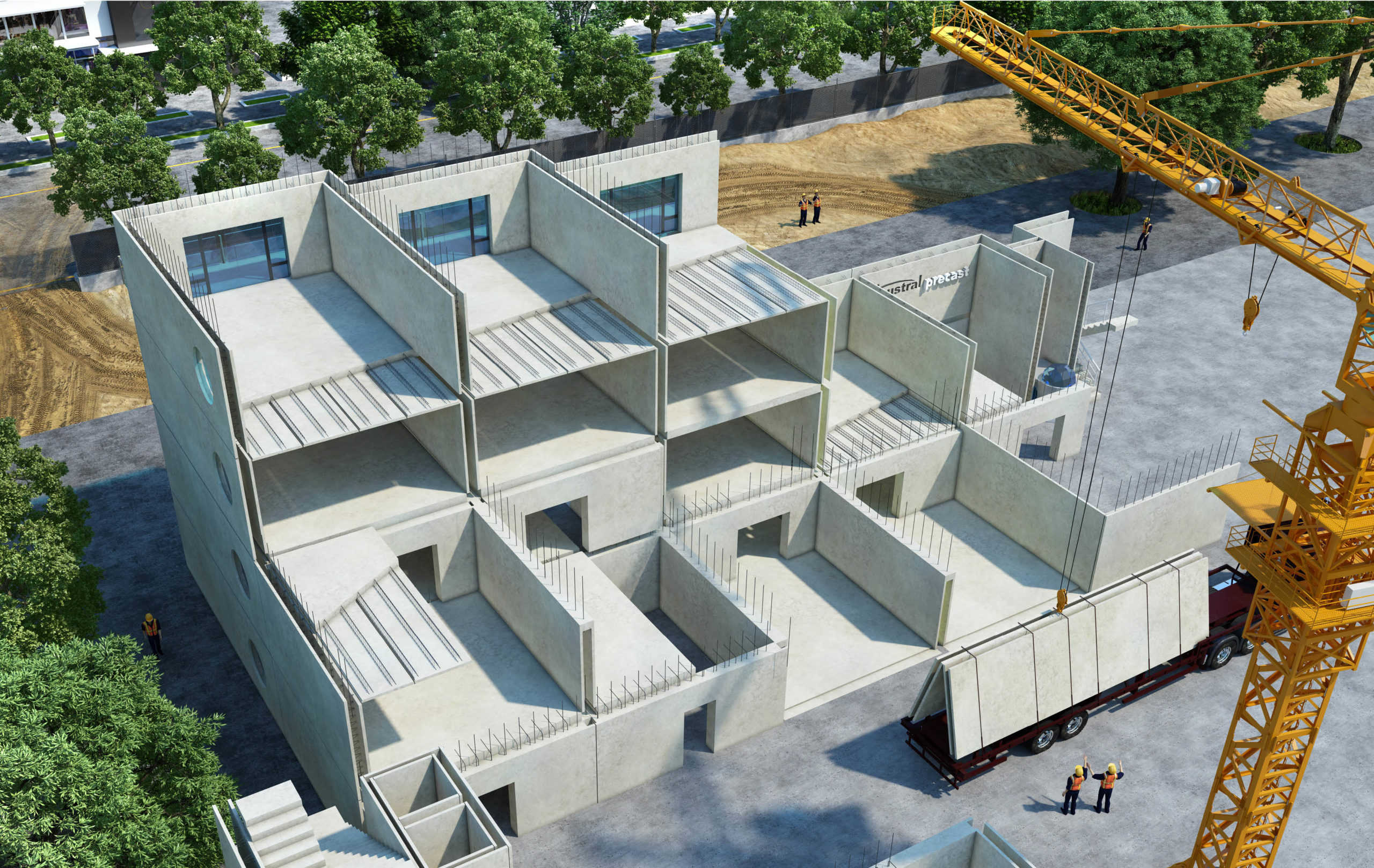 Event Details
WHEN
5:00 pm AEDT
Thursday
25/02/2021
WHERE
WEBINAR (Meeting details emailed prior to event)
Join us to hear about Double Wall precast building systems, commercially used throughout Europe and gaining popularity in Australia.
Widely used in commercial construction throughout Europe thanks to its many benefits in engineering, design and construction, Double Wall is a permanent formwork precast building system which enable the creation of monolithic structures.
This innovative solution enables better engineering design, increases efficiency on site, and reduces construction challenges. Characterised by its reduced weight, Double Wall enables greater savings in installation costs and time while adding monolithic design advantages to the many other construction advantages the Austral Precast whole of structure offer brings. With the many installation advantages, shorter superstructure construction time and monolithic design advantages, Double Wall is a convincing argument.
Double Wall consists of a pair of precast reinforced concrete shells connected by a lattice girder (trusses) fabricated from reinforcement bar, forming a cavity.
Key themes covered:
• Innovation in Double Wall construction
• Key Features and Benefits
• Local and International Case Studies
This event is being held in collaboration with Engineers Australia.
RSVP is essential.

Read More

FIEAust CPEng
Angus is the Structural Engineering Leader in Laing O'Rourke's Engineering Excellence Group. Laing O'Rourke is a multi-national contracting organisation with more than 15,000 staff worldwide.
Angus was Chair of the Modular Construction Code Board in Australia from January 2014 to January 2017. He is a Fellow of the Institutions of Structural Engineers, Civil Engineers and Engineers Australia.
Angus is a passionate practitioner of modular construction utilising DfMA (Design for Manufacture and Assembly). He specialises in promoting the use of DfMA methodology in major construction projects, including buildings and large-scale civil engineering works. He utilises all leading international codes of practice and he has comprehensive experience in high-strength concrete; steelwork; seismic design; structural dynamics; soil-structure interaction; water-retaining and water-excluding structures; marine structures; bridges; highways structures; precast concrete; and forensic engineering.
Angus has presented throughout Europe, the Middle East and Australia. He was a member of the steering group for, and is a contributing author to, the Concrete Society's Guide to Design of Concrete Structures in the Arabian Peninsula, which was published in October 2008. His paper on the design of high-strength concrete columns was published by the Institution of Structural Engineers in March 2007.
Angus's projects include: Burj Khalifa – the world's tallest tower, Emirates Towers, Burj Al Arab, Dubai Festival City and Dubai Marina in Dubai, UAE; and ADNOC HQ office tower in Abu Dhabi. Angus lives with his family in Sydney and is currently working on several projects, including: high-rise buildings; renewable energy developments; and large-scale infrastructure, oil, gas and mineral resource projects.
Read More

Matthew Murray is the Engineering and Estimating Manager at Austral Precast and one of Australia's leading experts on the Double Wall system. Having worked with countless clients on various projects that range from tunnels like the M5 tunnel project in Sydney to high rise buildings, Matthew has developed an intimate understanding of the Double Wall product and how it can be used to improve engineering design and construction timelines.
Please register for this event
x
Get Inspired
Stay up to date with the latest trends, products projects and more on Instagram.