When Interline Bus Services outgrew their existing bus depot, they built a new one in Leppington in southwest Sydney.
Austral Masonry designed two paving systems for the 8,000-square-metre hardstand, taking historical rainfall data, site layout, hardstand area, infiltration rate of pavers, and storage volume within the base material into account. A certified hydraulic engineer finalised the design to ensure compliance to relevant standards and codes.
Approximately 7,000-square-metres is Interlock 80 commercial pavers and 1,000 square metres is Causeway 80 permeable pavers, over which the buses can drive and park, while water flows through the surface of the paving and is stored within the voids of the granular base.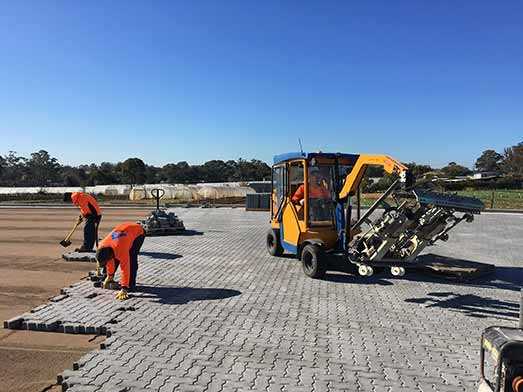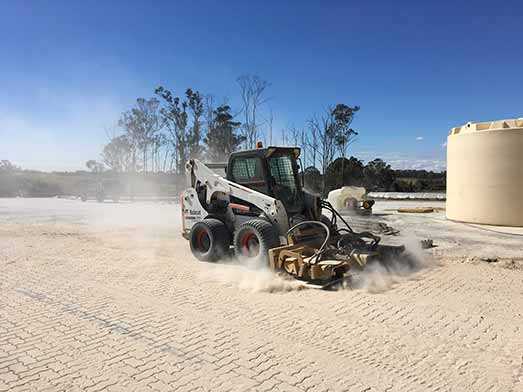 Commercial paving
The 7,000-square-metre commercial paving has five layers from base to surface:
Geotextile in between the subgrade and base
Slag road base Recycled bedding sand
Austral Masonry Interlock 80 pavers in herringbone pattern
Jointing sand
The Tencate Miragrid RSi-Series geotextile provides separation and filtration between the subgrade and base layers. Its double-layer construction offers permeability and particle retention and its high-tensile module provides stabilisation. The geotextile is an economical means of improving durability of paving and works through interaction friction, reinforcing and strengthening the paving as it is driven over.
On top of the geotextile, the slag road base performs like a lightly cement-bound base. As a waste product of the steel manufacturing process, slag is economical ($1/T + $16/T cartage) and 100-per-cent recyclable.
Austral Masonry 80mm Interlock Type A Pavers are machine laid in a herringbone pattern on top of the recycled bedding sand. The segmental concrete pavers are engineered for high volume traffic, heavy loadings and foundation support for high-performance hardstand systems. Their strong and dense concrete form withstands considerable loads without damage and a P5 slip rating ensures excellent traction for heavy vehicles and minimal skidding.
Two permeable paving pits store the required 200kL of water on site and eliminate the need for drains and stormwater pipes. One pit is located in the far corner of the handstand, and the other is used for staff parking. Edge beams around the permeable paving pits separate them from the commercial paving, and a greater base thickness ensures structural adequacy and water storage.
The calculation of water storage was based on the 30 per cent void ratio of aggregates, with the strength of the base layer assumed fully saturated. Infiltration rates were based on a 10-year value, and therefore 10 per cent of initial value.
Austral Masonry Machine Laid 80mm Causeway Pavers provide a hardstand and drainage solution in one. Each paver has small nibs on the ends and sides to create a gap between pavers, providing a small channel for rainwater to penetrate. The water passes through a layer of filter fabric, which removes sediments and pollutants, and into the granular base where it sits for a period of time before being pumped and stored into above-ground tanks, and used to wash buses on site.
All pavers were tested in accordance with the relevant Australian standards. Compaction tests were performed on the base to ensure it was adequately installed, and both the bedding sand and the jointing sand conformed to industry guidelines.
The result is a functional cost-effective pavement that withstands the amount of bus passes per year, provides the required water storage and reduces risk and maintenance.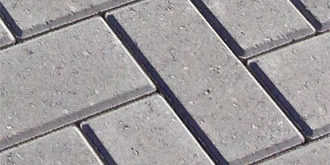 Austral Masonry
Interlock 80 – Colour Natural
Interlock 80 pavers are ideal for areas such as heavy transport and container terminals, industrial facilities, aircraft terminals etc. Interlock installations are generally used with header and border rows of Techpave 80 to finish the edges.
+ Learn more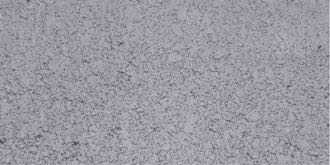 Pavers
Austral Masonry Causeway Colour Natural
Causeway permeable pavers are a unique product which features small nibs on each side which create a gap between pavers which allows water to penetrate between them. An intelligent hardstand solution, Causeway pavers can reduce drainage infrastructure requirements and the costs associated.
+ Learn more
It needed to accommodate 120 buses entering and exiting the yard every day of the year, and the council DA required 200kL of water be stored on site. Austral Masonry took a dual approach to the hardstand with 7,000-square-metres of commercial paving and 1,000 square metres of permeable paving. This innovative method also eliminated the need for drainage and underground services for stormwater, thereby reducing ongoing maintenance and risk.
"The managing director had owned bus depots in the past, which had asphalt and concrete hardstands, all of which had failed over time, says Michael Koungras, engineering manager at Austral Masonry. "He was after a cost-effective functional hardstand that could be easily and effectively maintained. He also needed it to be installed and trafficable as quickly as possible as he had outgrown the previous depot and was paying rent on land to store the surplus buses."
The 10,000-square-metre site previously had a house surrounded by grassland and trees, before the area was re-zoned to allow the construction of a bus depot. The challenge was to design an 8,000-square-metre functional pavement that met the structural requirements for 87,600 bus passes a year as well as storing the 200kL water required by the council DA. The remaining 2,000 square metres of the site was to accommodate warehouses, sheds, and site offices.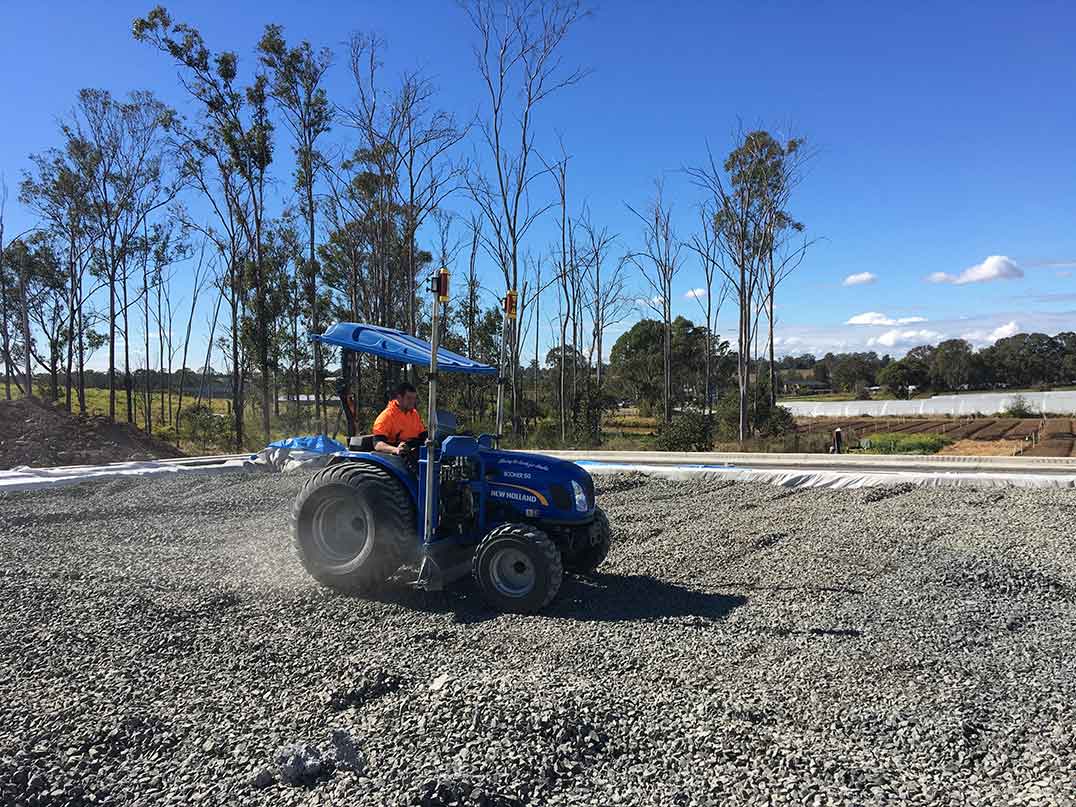 Get In Touch
Build your dream home.
Learn about our products.
Learn from the best.
Join us at an event.
Please register for this event
x
Get Inspired
Stay up to date with the latest trends, products projects and more on Instagram.