Located in the Sanjiangkou area of Mawei New District, Fuzhou, the project covers a 150,000-square-metre area facing the Minjiang River.
Visit Product Website
Location
Mawei New Town, Fuzhou, China
Gross area
Owner
Mawei New Town construction Development Co. Ltd.
Lead designers
Local architect
It is composed of five buildings conceived as petals and arranged as is if fanning out from the centre of the flower. The buildings provide a 700-seat multi-purpose theatre hall, opera house, 1000-seat concert hall, art museum, and film and television centre. A centrally located cultural hall and large roof terrace connects the buildings, enabling people to walk between each and providing access to the riverfront.
"Dividing the large complex into smaller units gives the Centre a more human scale and makes it easy for users to navigate both indoors and outdoors. Each building has a core area – a semi-public, curved gallery that follows the curvature of the main façade – that integrates the public interior space with the landscape of the Jasmine Gardens around the building and further with the Mahangzhou island natural reserve in front of the Centre," explains Pekka Salminen, founder of PES-Architects.
PES-Architects used steel, concrete, bamboo and ceramic. The project features the largest single-layer shell grid construction area in China (the projected area is about 30,000 square meters), and the largest single-layer shell body grid span in China (165 meters in length, 90 meters in width). Custom-white glazed terracotta tiles and louvres clad the hyperbolic roof and façade with large 80-by-40-centimetre ceramic plates on the rear and 1.8-metre-long Terracotta or Ceramic louvres on the front of the buildings.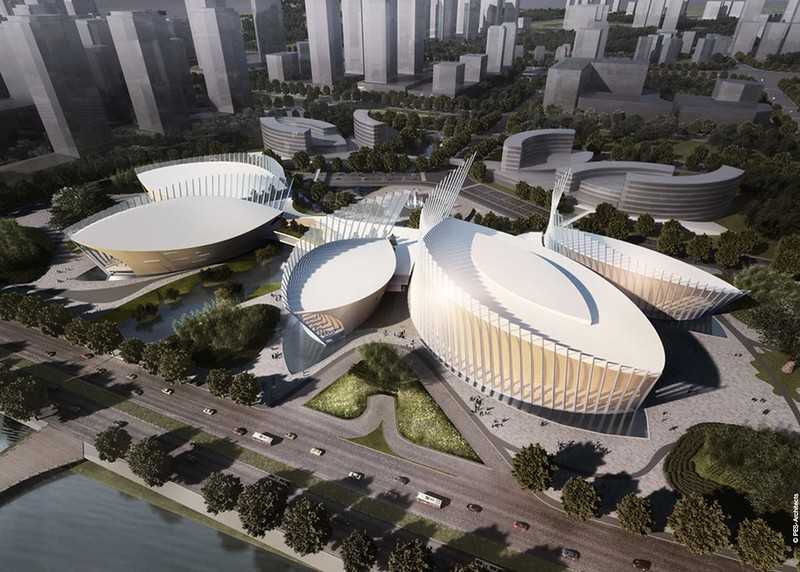 PES-Architects selected ceramic as an aesthetic and functional choice, and for its historic connections to Fuzhou. Located on China's southeast coast, the city flourished during the Ming Dynasty (1368–1644) when it became a gateway to the Maritime Silk Route and trade in prized porcelain.
The lens-shaped Terraçade louvres have cascading gaps between them to give the building a delicate, translucent quality, and the appearance of 'petals' softly folding and unfurling. The distance and angle of the louvres has been optimised to provide shading across vast glass façade, and they cast shadows inside creating intriguing plays of light across the white-ceramic and bamboo interior.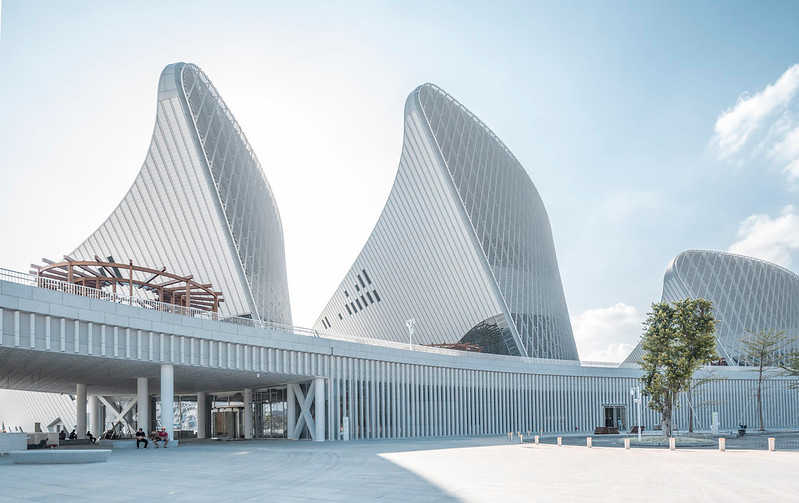 The standard range of Terraçade Louvres are available in 1 metre lengths with an option of two profiles in a 40 or 50mm thickness available with a collection of colours inspired by the Australian landscape. For custom sizes and colours like those used at Fuzhou, minimum order quantities apply and the Terraçade team work with architects and designers to create solutions that suit their designs, colour palette and budget.
PES-Architects worked with Taiwanese ceramic artist Samuel Hsuan-yu Shih to design the interior of the opera house and concert hall to meet acoustic requirements. The interior wall of the opera house is covered in a matt China White skin with 1.5 million pieces of ceramic jasmine 'petals' and decorated with 13 kinds of shapes.
Fuzhou Strait Culture and Art Centre opened in October 2018. Terracade
Terracade Baguette
Terraçade baguettes can be used for both practical and decorative applications on building façades. The system can be use to provide privacy screening, permanent ventilation and shading or simply to apply a stylish finish to any residential, commercial or industrial project.
View Product
Get In Touch
Build your dream home.
Learn about our products.
Learn from the best.
Join us at an event.
Please register for this event
x
Get Inspired
Stay up to date with the latest trends, products projects and more on Instagram.