The expansion of a Melbourne townhouse that intelligently responds to site and brief has created a bright, flexible family home.
Project
Architect
Rachcoff Vella Architecture
Featured Products
Bowral Bricks in Simmental Silver
Presented with a promising site occupied by a heritage structure and some uninspiring modifications, Tony Vella, Director at Rachcoff Vella Architecture, realized that this project would require attention to detail. The client's brief was to design a home that could accommodate a growing family within an urban environment, and included "a desire to maximise the site's potential views and other opportunities whilst making it flexible to adapt to a family's changing needs over time," Vella recalls. The owners wanted to "embrace the location and city townhouse lifestyle with spaces that reflected both the context and their design influences."
Vella sums up the task, commenting, "the house required careful design consideration to the clients' brief, the inherited heritage overlay and streetscape restrictions." Despite its orientation, the site offered great potential; the challenge for the Rachcoff Vella team was, in Vella's words, to "surgically unpeel the badly built additions to allow for a clean break from the existing heritage house and create new living platforms."
The presence of the heritage component posed both the challenge of needing to retain it, as well as the opportunity of conversing with its historic texture and aesthetic in the new build. "The response was to play on the idea of a new campervan carefully connected to the existing house," Vella explains. This connection was intentionally defined with roof lines juxtaposed to clearly distinguish the relationship between new and existing built forms.
The resulting dwelling is alive with unexpected geometries, creating voids and vanishing points as intriguing as they are unlikely in a completely new build. Capitalizing on the north-facing aspect and relative height compared to the surrounding buildings, abundant fenestration welcomes sunlight into the home, while offering expansive views of the Melbourne skyline.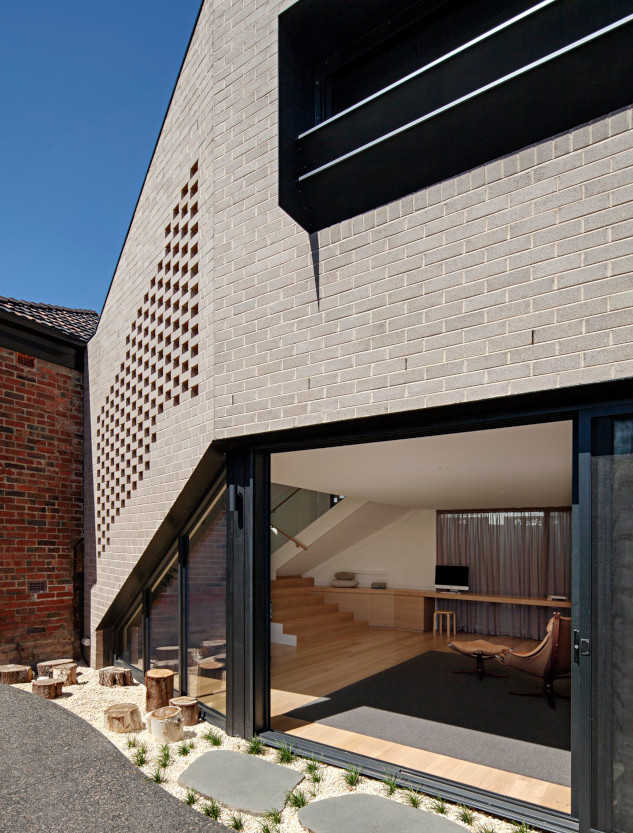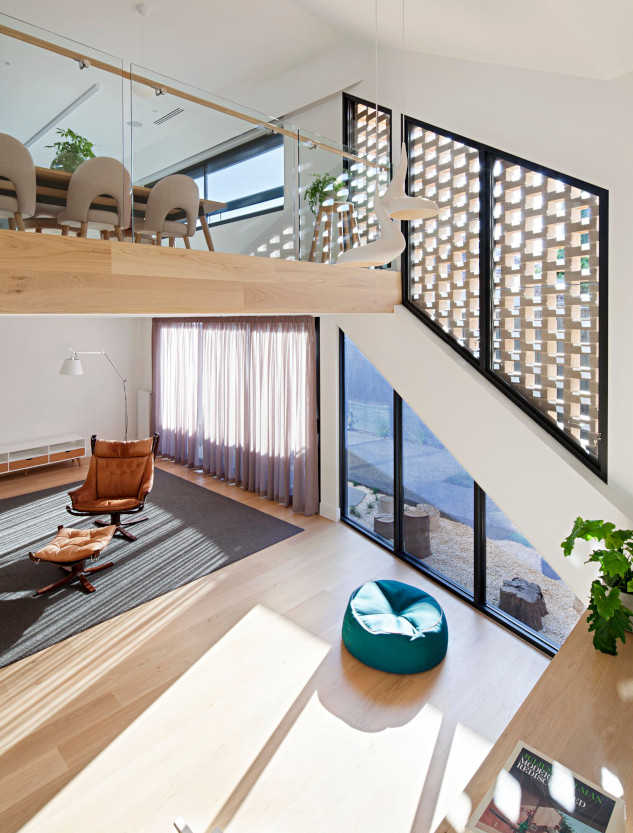 Pivotal in creating dialogue between the old and the new in the house is materiality, and the contrast between the home's dark-stained timber, steel and glass base and the band of light-coloured brick that sits atop it defines this relationship. "The selection of 'Bowral Simmental Silver' bricks is deliberate as it offers a sense of lightness and contradiction to the very heavy first floor façade; the intention is to create a floating effect above a dark base structure," reflects Vella. Again, preconceptions are challenged with the inversion of material and colour, with the traditionally heavier, more structural brickwork employed to add buoyancy to the façade, and the more delicate timber, steel and glass functioning as the foundation. Moreover, a patch of syncopated perforation in the wall adds a sculptural flourish that also serves to allow dappled light to penetrate living spaces without compromising privacy.
The home continues to surprise inside, as the coarse, greyscale exterior opens into a warm, bright and colorful interior. Blond timber flooring, carpeting, white render and natural stone create a clean, spare canvas animated by rich metallic detailing and colorful soft furnishings. An alternating matte and gloss tiled shower in deep plum purple is particularly alluring, and occasional glimpses of the brick 'skin' of the structure further heighten the sense of sanctuary created by the gentler inner spaces.
For Vella, the project was a reminder of how the use of bricks by architects has evolved beyond a purely structural one. In this home, "the use of brickwork allowed the façade to be achieved including filtered light into the central transition space/stairs," he observes, and more broadly, "there is greater variety and creative use for patterns, textures and materiality." While in part this can be attributed to the efforts of companies such as Brickworks to elaborate more sophisticated product offerings, with innovative colour options, configurations, finishes etc., it also reflects the materials' unique appeal. When asked what he finds satisfying or exciting about using bricks in his projects, Vella responds: "The permanence, sense of space and flexibility they offer. Bricks are an honest and true material with benefits."
For all their timelessness, however, bricks are by no means static, and the above-mentioned energy of manufacturers to meet ever more exacting and adventurous demands from clients heralds a new golden age for the material. Vella, for instance, expresses a desire for "new textures and patterns not limited to large runs and greater customisation," and, judging by current trends, he won't have to wait long before his desire is met.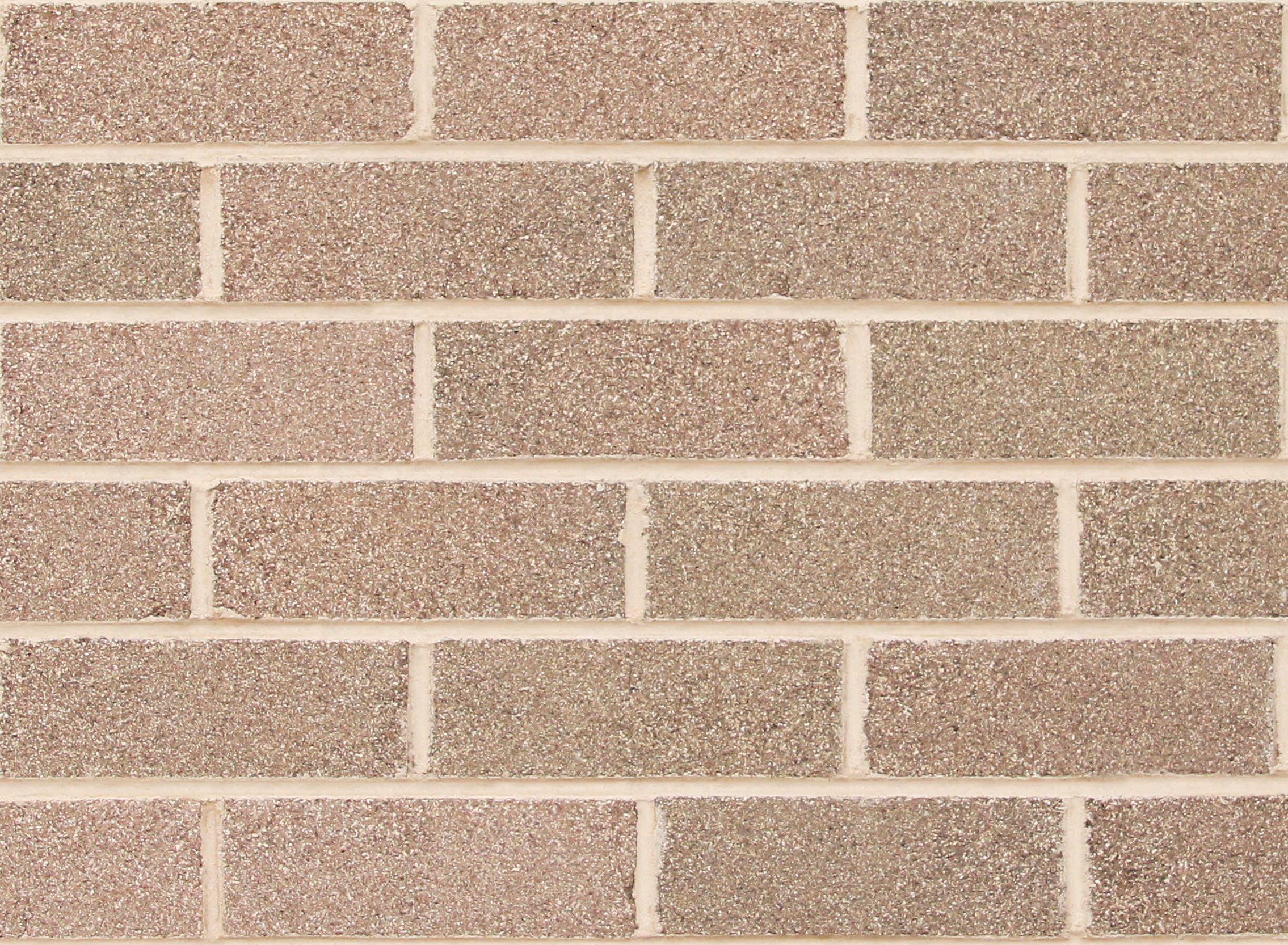 Bricks
Bowral Bricks in Simmental Silver
These distinctive dry pressed bricks made at our Bowral plant have been used in many of Australia's most admired and historic buildings. With their unique granular patina and tactile aesthetic, Bowral bricks are highly prized by customers, architects and designers alike, and set the standard for design and integrity. Their sharp edges and inherent character combine with the distinctive Bowral clay colours to create what can only be a Bowral Brick.
Learn more +
Get In Touch
Build your dream home.
Learn about our products.
Learn from the best.
Join us at an event.
Please register for this event
x
Get Inspired
Stay up to date with the latest trends, products projects and more on Instagram.